When I was pregnant with Marston Joe and I took a babymoon to Asheville, NC. It was really more of a foodcation, we ate our way through Asheville. Because that is what I do when I am pregnant.
On our very last morning we had brunch at Table and I ordered a hamburger. Because that is what I do when I am pregnant (I do this when I'm not pregnant too, but whatever). The hamburger came with the most amazing fried potatoes I've ever eaten. I have been dreaming of those potatoes ever since.
In case you were dreaming about potatoes you didn't even know about t finally decided to try making them myself last month. Please don't be mad at me for waiting so long to actually make them. They weren't seasoned with harissa in the restaurant, but I'm currently throwing it on everything I make, so I thought, why not. They are delicious. Make these for Christmas brunch this year and you will not be disappointed. Or Christmas dinner. Or Christmas snack. No need to be picky.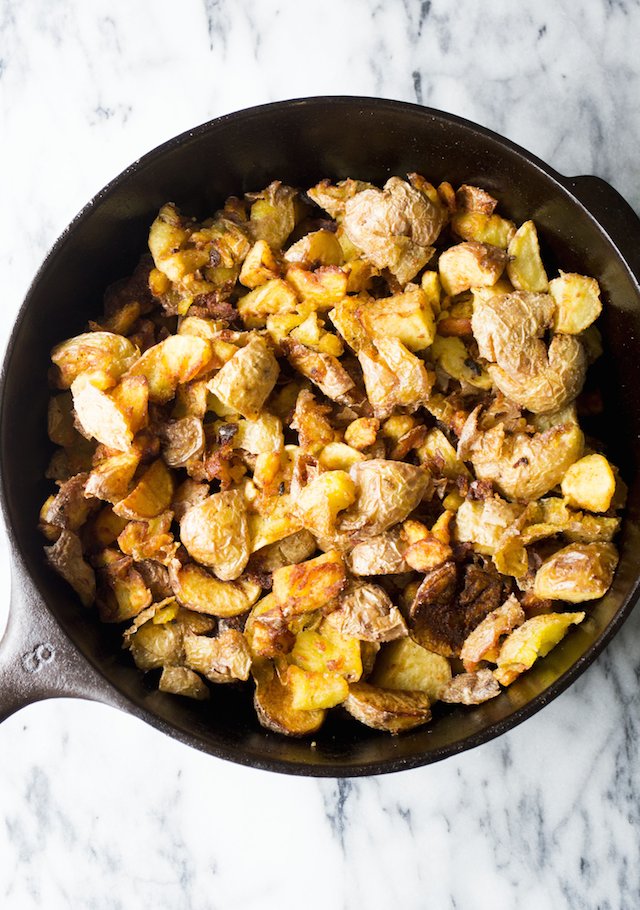 My Notes about Harissa Fried Potatoes
Make sure you use harissa seasoning and not harissa paste (I speak from experience). If you're not a big fan of middle eastern flavors, you can substitute any other kind of spice you think would be nice.
You can use different potatoes if you like, just make sure they are small and firm. They will cook uniformly and quicker.
Unless you own a deep fryer you'll probably need to work in batches.
If you have never parboiled any of your food before, it's easy. Just follow the instructions in the link.
If you're frying in batches, you'll want to toss in the seasonings in batches as well.

Harissa Fried Potatoes
Ingredients
2 lbs of small yukon gold creamer potatoes
2-3 cups of sunflower oil
½ teaspoon of harissa seasoning
kosher salt
Instructions
Depending on size cut potatoes in halves or quarters. Keeping them relatively the same size.
Parboil the potatoes for about 10-15 minutes. Until they tender, but not entirely soft.
Drain potatoes and using the back of your knife, smash.
Heat oil on medium high heat. When hot but not smoking, add smashed potatoes. Fry in batches until golden brown.
Remove from oil using a slotted spoon. Drain on paper towel and immediately toss with salt and harissa seasoning.
What are you making for Christmas brunch?