What does your Christmas dinner consist of? I remember when I realized that you didn't have to have turkey for both Thanksgiving and Christmas. Now I love turkey and will happily eat it for both. But if I'm allowed to eat New York Strip Roast? I'm going to choose New York Strip Roast. Because steak.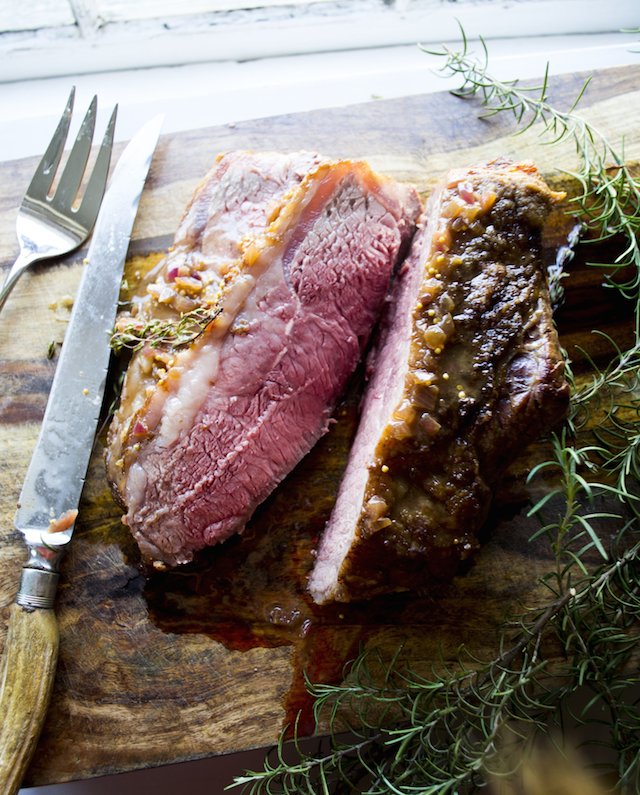 Three Reasons You Should Make New York Strip Roast this Christmas
It's probably on sale right now. If you live in the South it's on sale at Publix right now. If you don't live in the South, it's not uncommon for it to be on sale this time of year, check your local market.
You'll be the hero of Christmas dinner. BECAUSE YOU MADE STEAK. And it's pretty!
It's SO easy. I think it's easier to cook than turkey. You rub it down with salt, throw it in the oven and then take it out when it hits the right temperature.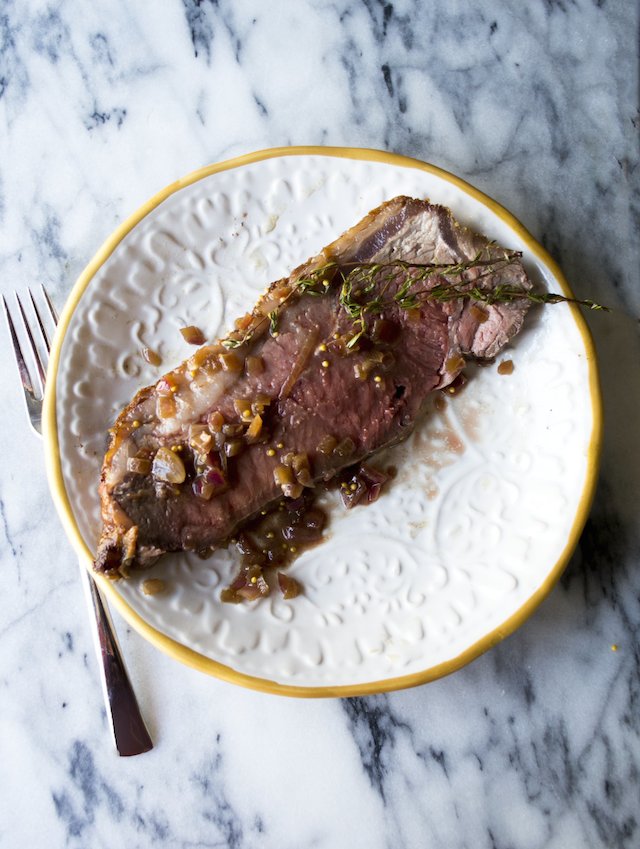 My Notes on How to Make a New York Strip Roast
Some recipes call for starting the oven at 450 and reducing it to 350 after about 10 minutes. I sear mine first because I like that kind of a crust, and also I need it for making the pan sauce. If you are crunched on time and don't care about the sauce, just start the oven high and then reduce.
You'll want a meat thermometer. Make sure you stick the thermometer in the thickest part of the meat. Additionally, when the temperature starts getting close I would check it in a couple of different areas.
The worst is when you pull it out raw and then cut it and then you have to pan sear each individual cut. I can't be re-cooking twelve different orders during Christmas dinner. Ain't nobody got time for that.
For the pan sauce you can use red wine instead if you prefer, I just had champagne, so that's what I used. And champagne mustard sauce sounds yummy.
The butcher tells me that you want to slice New York Strip Roasts an inch thick (from my experience this is easiest). However, if you do that it will only serve four to five people. I typically will slice it an inch thick and then cut it horizontally and serve.

New York Strip Roast with Champagne Mustard Sauce
Ingredients
½ teaspoon of yellow mustard seeds
2 thyme springs
1 cup of champagne
1 small shallot minced
2 tablespoons of cold butter
4 lbs of strip roast
kosher salt
Instructions
Preheat oven to 350 degrees.
Liberally rub down the roast with kosher salt.
Sear roast in large sauté pan on medium high heat for a couple minutes each side, until a nice crust forms.
Place roast on rack in roasting pan.
Roast for 45 minutes to an hour or until steak reaches desired temperature (125 for medium rare).
Remove from oven and let rest for about 10 minutes
After placing roast in oven, return sauté pan to medium high heat and add shallots and mustard seeds. Saute until softened.
Deglaze pan with champagne and add thyme sprigs. Reduce on medium heat until thickened.
Remove from heat and add butter. Swirl butter as it melts.
Spoon over steak.