Have you ever wanted to make homemade ketchup? Or eaten some good-old-fashioned Heinz and wondered, what exactly is ketchup made out of? In this post, I'm going to share the simple recipe to make your own staple of the condiment aisle, homemade ketchup.
Why I Made Homemade Ketchup
Every Sunday night my entire family gathers together to invest in our relationships. We believe closeness requires intentionality. So Sunday nights we're intentional. We eat good food, drink good drink, laugh a lot and sometimes cry. We feel our feelings, and it's my favorite night of the week.
My brother and sister (I guess she's technically a sister-in-law) were in Cuba this past week, so we were pared down to only 11 people. Usually we go to Gainesville, but we decided to do Atlanta this time. The crew descended upon my house around 4pm and we started with sundowners before heading to a nearby restaurant for dinner.
My mom brought a wheel of camembert (stinky french creamy cheese) and accoutrements (pears and apples), and I decided to fry up some tostones. Not that those french cheese and the Caribbean's version of french fries really go together, but I'd been craving tostones so that's what I did.
And since I was making tostones, I figured I should probably make some homemade ketchup too.
I've been wanting to try creating homemade ketchup for awhile anyway. Let me tell you, it was delicious. I will never eat store bought ketchup again (it's so easy and the taste improvement is great).
To Note about Homemade Ketchup
Tomato paste is the key ingredient here. I'm learning all about tomatoes in my online cooking class right now. When purchasing any kind of canned tomato, you want to make sure tomatoes are the only ingredient listed (when citric acid is listed as an ingredient, it's because they picked the tomatoes early and used the acid to help them ripen).
And apparently double concentrated tomato paste or sun dried tomato paste is best. They can often be found in tubes (which is also good cause it means you don't have to throw it away after opening the can and only using one tablespoon).
Since I have no clue how to make homemade ketchup and I haven't reached that section yet in my cooking class (cause I'm totally sure they have a whole section on how to make homemade ketchup), I did some research on it on the internet. I found this recipe that had flavor profiles I liked and I adapted it, mostly because I didn't have all the ingredients, but it turned out great!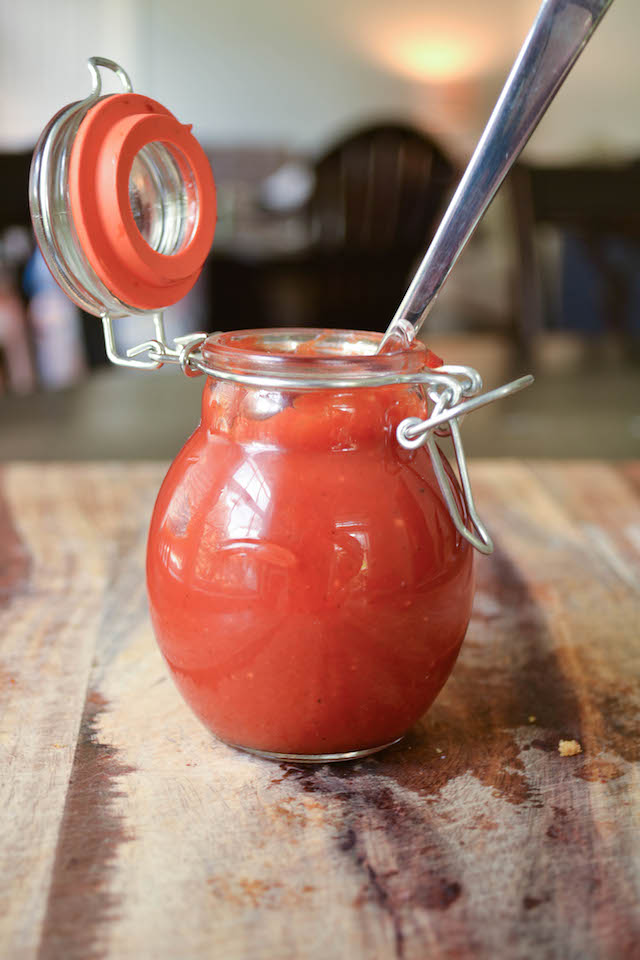 Homemade Ketchup Ingredients
1 tablespoon of olive oil
1 small onion chopped
2 garlic cloves sliced
1/4 cup brown sugar
1/2 teaspoon of paprika
1/4 teaspoon of allspice
1/4 teaspoon of nutmeg
pinch of cumin
1/3 cup of distilled white vinegar
1 tablespoon tomato paste
1 15 ounce can of tomato sauce
salt and pepper to taste
Homemade Ketchup Recipe
In a saucepan, heat the oil. Add the onion and garlic and cook over medium heat, until softened and just starting to brown.
Add the brown sugar, paprika, allspice, nutmeg, cumin and stirring occasionally, cook until the sugar melts.
Add in tomato paste and cook for about 30 seconds.
Add in the vinegar and cook, stirring occasionally, for about three minutes, or until slightly thickened.
Add in tomato sauce and cook until very thick, about 15-20 minutes.
Using a hand blender, puree until smooth and ketchup like consistency. Season with salt and pepper.
Serve with: Tostones or French Fries
Drink with: Cigar City Invasion Pale Ale