Have pomegranates and pears started popping up in your farmer's market yet? In Atlanta, the local ingredients have shifted and so my cooking has shifted as well. I love the change in seasonal ingredients. The persimmons and squashes all sit there begging me to eat them. So I'm all like fine, I'll eat you. Get into my belly.
I dreamed up this tasty winter salad as I roamed the aisles of our market. Mostly it's just all the things I love, and I hope you will love it too.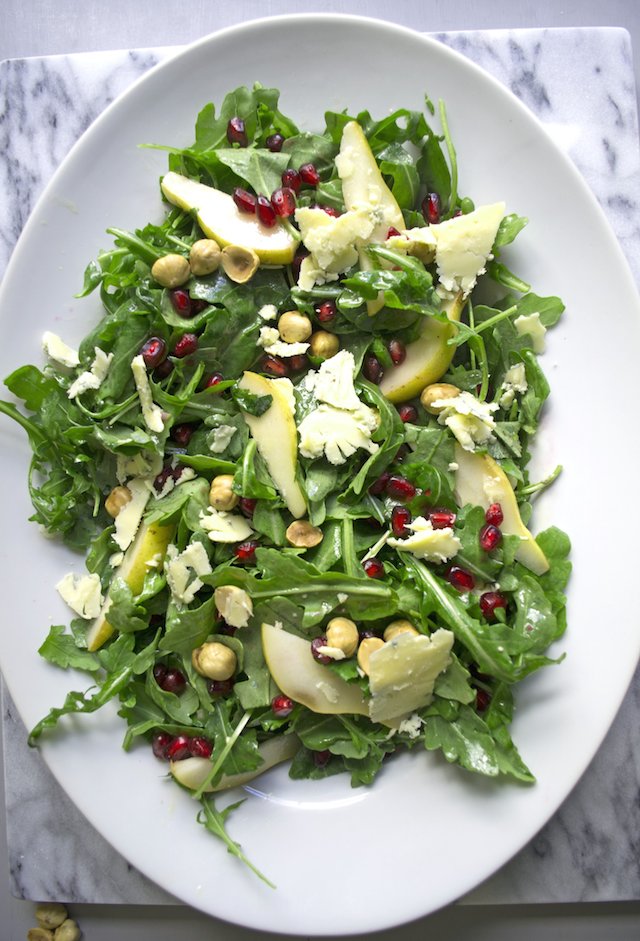 My Notes about this Winter Salad
The pomegranate seeds were a last minute addition, and they really make the salad. Not only are they pretty, but the bursts of juice in your mouth liven up the salad and tie it all together.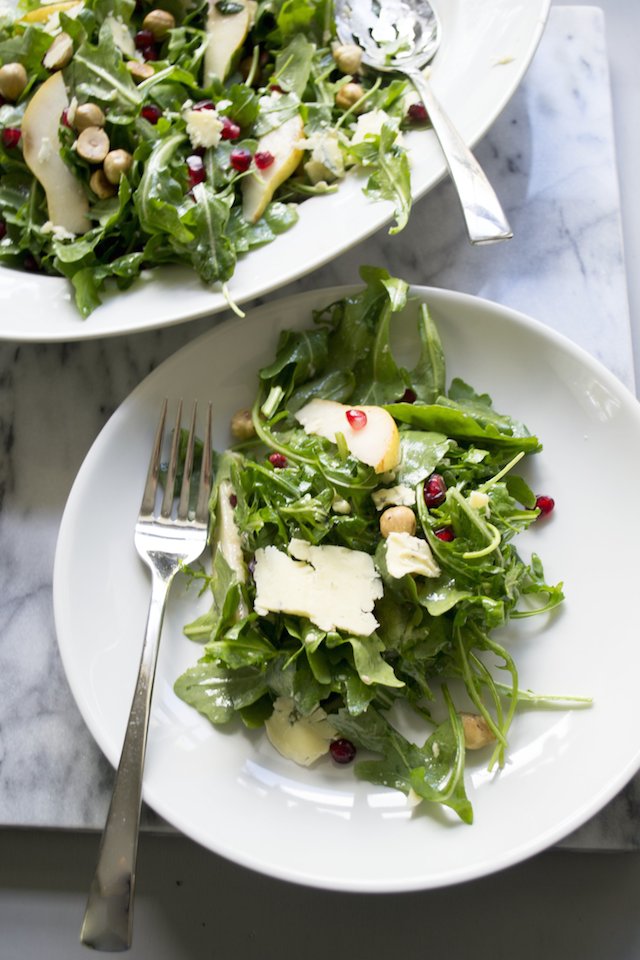 There are many methods for deseeding the pomegranates, I just used my hands. I've found the under water method to be too messy and the spoon one to be ineffective.
I had to blanch my hazelnuts and then toast them. I considered not toasting them, but then I ate one. Yuck ya'll. Toast your hazelnuts (350 degrees for 5-8 minutes). So much better.

Winter Salad with Arugula, Pomegranates and Champagne Vinaigrette
Ingredients
2 barlett pears sliced
8 ounces of arugula
2 ounces of Stilton blue cheese shaved
seeds from ½ a pomegranate
⅓ cup of toasted hazelnuts
½ cup of olive oil
3 tablespoons of champagne vinegar
1 tablespoon of honey
1 tablespoon of dijon mustard
1 tablespoon of minced shallot
1 tablespoon of lemon juice
pinch of salt
Instructions
Layer arugula, pears, hazelnuts, seeds, and shaved blue cheese in platter or bowl (reserve a little of the toppings for presentation at the end).
In mason jar combine oil, vinegar, honey, mustard, shallot, lemon juice and salt. Shake until elmusified.
Dress salad and toss. Add remaining topping for presentation.
What seasonal ingredients are you loving?