I've been working my way through the mother sauces on Rouxbe. So far I've done two — tomato and hollandaise. However, I think I still have PTSD from making the hollandaise so it'll be awhile before I'm ready to share that adventure.
But the tomato sauce, that's just fun.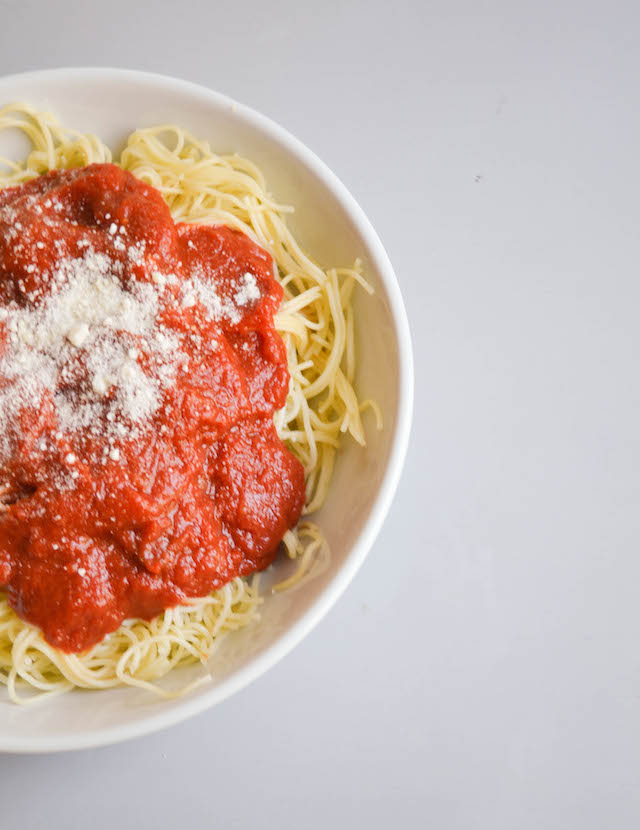 The Secret Ingredient in Homemade Tomato Sauce — San Marzano Tomatoes.
Did you know that a typical can of tomatoes (even many organic cans) includes citric acid as an ingredient to ripen the tomatoes which are often picked when they are green? But don't worry, there's a specific region in Italy with tomatoes that must have come from Mount Olympus. Please excuse the cliche. They are the sweetest most delicious tomatoes I've ever tasted.
I will never buy any canned tomato that is not a San Marzano tomato again (at least as far as I can help it). And make sure they are San Marzano tomatoes, not just "from the region." They should have the letters D.O.P. on the can, I think it's a certification.
They are a bit more expensive on Amazon, but at the grocery store near my house I can get a can for $2.50, which is only slightly more than a regular can of tomatoes. If you are unable to find San Marzano tomatoes, try and find organic tomatoes without any extra added ingredients.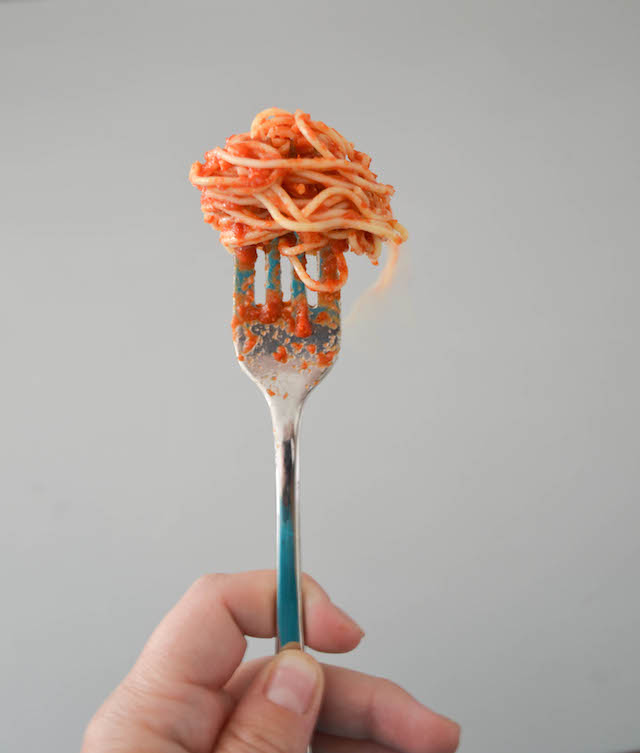 Secondly, get good tomato paste. You can read more about my recommendations in this earlier post.
Thirdly, you want to use whole tomatoes (instead of diced or crushed) so that you can pass them thru a food mill and remove the seeds. The tomato seeds make the sauce bitter, so removing the seeds gives you a cleaner sweeter sauce. The Italians use a machine specifically designed to remove the seeds called a Passatutto – which as far as I can tell is just a vertical food mill.
You can build on this tomato sauce for many many recipes. It's a good one to have in your repertoire. I typically make it for dinner and divide the leftovers into freezer bags for future recipes. Make sure the sauce cools before putting it in the freezer.
The Best Homemade Tomato Sauce
Ingredients
2 shallots finely diced
3 garlic cloves sliced not minced
4 28 ounce cans of San Marzano tomatoes
5.5 ounces of tomato paste
10 basil leaves chopped
¼ cup of olive oil
salt
Instructions
Pass the tomatoes through the food mill. Make sure to include the juices from the can. Discard the pulp and seeds.
Heat a heavy bottomed pan over medium heat. Then add the oil, once the oil is hot, add the onions. Cook the onions, stirring occasionally until softened.
Then add the garlic and soften for a minute or so. Be sure to not over cook the garlic, it will make a very bitter sauce if overcooked.
Add the tomato paste and stir, allowing to cook. When it is a shade darker add the deseeded tomatoes and a pinch of salt. Stir to combine and simmer uncovered for 45 minutes to an hour, continuing to stir occasionally.
Turn off heat, adjust salt and pepper if needed. Add in basil.