After living in Paris for two months last year, a number of people ask me what they should do with a long layover in Paris. I would hate for you to miss out on all my opinions as well, so here is my guide to seeing Paris on a layover. I'll be sharing a Paris City Guide in the next few weeks for those of you who have a few days to spend there.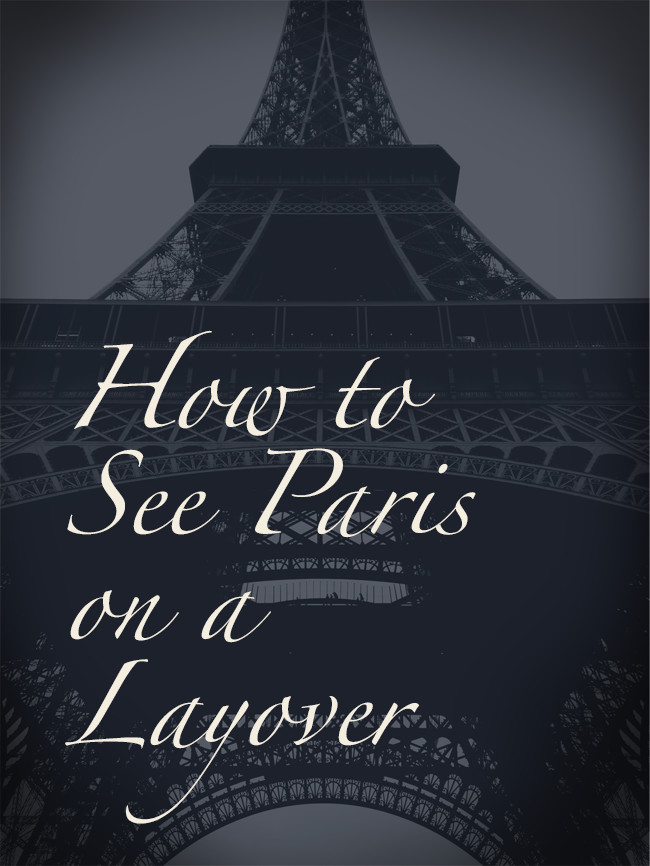 3 Sites To See If You Don't Have Much Time In Paris
This layover guide is intended for those with eight hours or more.
If you don't have at least eight hours (you can do it in seven if you're an experienced traveler) then you're better off buying a pass to the Delta Sky Club for $50, drinking champagne and eating their cheeses with accordion music playing in the background.
With travel time to and from the city ( an hour both ways), you'll probably only have time for two to three sites—Notre Dame, the Eiffel Tower and Sacre-Coeur Basilica if you feel like you can squish it in.
1. Notre Dame
First stop in the city, go see Notre Dame on Île de la Cite, which is the island in the middle of the Seine river where Paris was originally founded. Notre Dame is free and easily accessed. You can see it in 15 minutes or an hour. If you're there on a Sunday, stay for morning mass. Here's a quick video I took of the bells during mass last year.
2. The Eiffel Tower from the Trocadero
Next, get back on the metro and ride it to Trocadero. The best view of the Eiffel Tower is at Trocadero. If you want to go up the tower, get tickets online at least a month in advance, sometimes two. If you just want to see it, get off, walk over to the plaza, take pictures and then get back on the metro.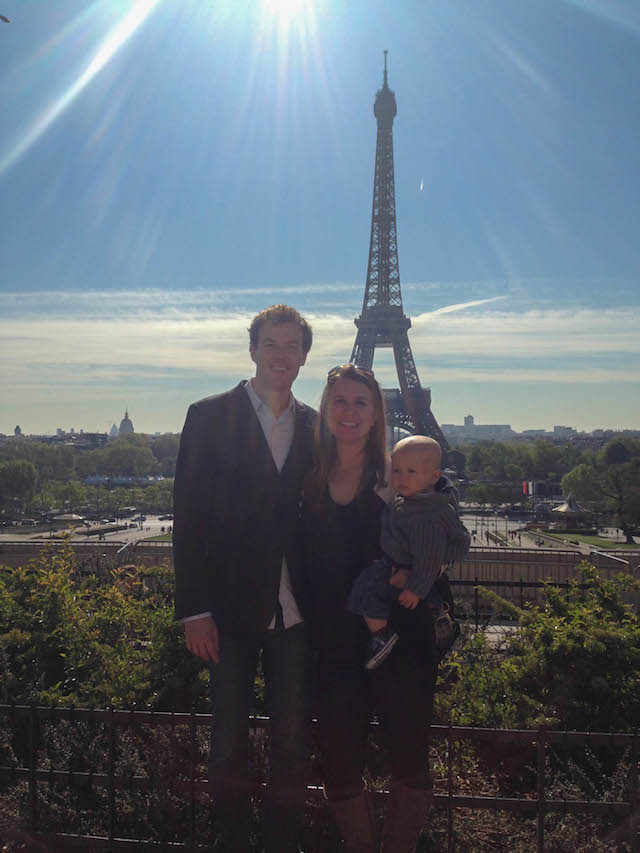 3. Sacre-Coeur
Take the Metro to see Sacre-Coeur Basilica. They've had ongoing prayer for 125 years, it's really beautiful. And a neat view of the city. The Basilica is white and a stunning contrast to much of the architecture of Paris.
Meals During Your Paris Layover
Depending on when you land and when meal time is—go to Miroir restaurant for lunch or dinner. It's an easy walk just south of Sacre-Coeur. Here is a review I wrote for tripadvisor years ago when I was there with my siblings and parents. 
Make a reservation in advance if you can. Parisians prefer reservations. It is a delicious restaurant that isn't too expensive for restaurants in Paris. Order the menu de jour if possible. You won't regret it. And house wine is really good in Paris, you don't need to worry about ordering anything fancy.
Also—Parisian restaurants are typically only open from 12–2 p.m. for lunch. And then dinner often doesn't start till 6 or 7 p.m., with most Parisians eating at 9 o'clock. So be sure to be prompt. If you're starving and you're outside of this window, you can get a light meal at most cafés.
If you don't think you'll make it all the way to Sacre Coeur, then you'll want to go to lunch in the 6th arrondissement (after seeing Notre Dame). Head over to Le Nemrod and introduce yourself to the duck confit with Sarladaise potatoes. YOU WILL NEVER BE THE SAME. It was one of our favorite local restaurants.
And after lunch, hop back on the metro and ride it back to CDG in time to catch your plane.
Metro Directions for Spending Your Layover in Paris
As Paris continues to grow, make sure to double check your route with a current map of Paris and the metro system as they may have added new lines and stops.
Once you get off the plane follow the signs to the RER station. You want to take RER B.

Purchase one way tickets (10.70 euro) to the city and a book of tickets (which is 10 tickets you can use inside the city – a carnet I believe it is called, around 13.70 euro for all 10, it is cheaper than buying them all individually. However, if you're traveling alone, it may be cheaper to purchase them individually depending on how often you get on and off). You can go to a kiosk in the station at Charles de Gaulle if you have cash. It is easiest to purchase them at the ticket counter – it has a green front and sliding doors—you can buy them there with a credit card. 

The RER leaves every two minutes or so. Take the RER to St. Michel/Notre Dame. Get off and see Notre Dame. 

Then go to the Saint Michel station and get on RER C. Take that to Champ de Mars/ Tour Eiffel. Get off and transfer to Bir-Hakem and ride it to Trocadero. Do the Eiffel.

Get on line 6 at Trocadero and take it towards Charles de Gaulle Etoille (it's not the airport). Get off at Etoile and transfer to line 2 towards Nation. Ride it to Pigalle or Anvers (I think Anvers is better). Get off and see Sacre-Coeur Basilica. 

You'll need to get walking directions to Miroir, but you should be able to do this prior to going on Google Maps. It's south of Sacre-Coeur and in between the Pigalle and Anvers. 
Here are directions for if you decide to go to lunch at Le Nemrod. From Notre Dame get on the St. Michel station on line 4 (not the RER C that you were on). Take that to the next stop, Odeon. Get off Odeon and transfer to line 10. Take that to Sevres-Babylone. Get off there and walk to Le Nemrod
I like to update this as Paris continues to evolve. Have you ever had a layover in Paris? How did you spend it?