What's your cozy food? When the weather is dreary and all you want to do is snuggle up inside with a good book, what do you make? I'm a cliche. When this happens, I make soup. Friday and Saturday were both kind of grey days, and we were having a few friends over Friday night. So, I, being the cliche that I am, decided to make butternut squash soup.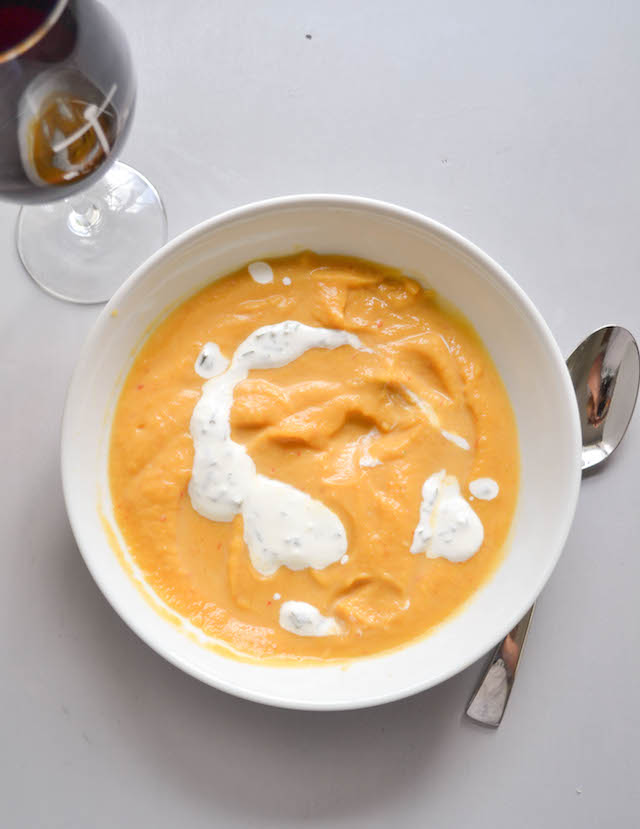 I've grown weary of the traditional butternut squash soup flavors so I poked around online and found Food and Wine did a take with chipotle peppers. I liked that idea, so I added them. Here's my own version.
My Notes on my Spicy Butternut Squash Soup Recipe
There are a lot of different ways to make butternut squash soup, the base recipe is onions, butternut squash, chicken stock. Your other ingredients are what make your butternut squash soup unique.
I've been learning about sweating ingredients in my online class. Sweating develops a much deeper flavor than you might get if you simply sautéed them for a few minutes. It's my new favorite. When you sweat your ingredients, make sure the heat is lower so the onions don't brown too much.
You can make your own crème fraîche (which I recommend because it's SO easy and much cheaper). Or, in a pinch you can use sour cream.
My sister in law, who I love so much, doesn't peel her butternut squash. It works for her. It does not work for you. Peel your squash.

Smoky Butternut Squash Soup
Ingredients
½ stick of clarified butter
5-6 shallots diced
6 pounds of butternut squash diced
4 chipotle peppers from a can, seeds removed, chopped
12 cups of chicken stock
½ cup of dry white wine
⅓ cup of cream
½ cup of chives
1 cup of crème fraîche
salt
Instructions
Sweat onions in large heavy bottomed pan on medium low heat for 15-20 minutes, until soft and almost butter like.
Add wine and reduce until almost gone
Add butternut squash and peppers, stir and cook for a minute
Add stock, bring to a boil and reduce to medium low. Simmer for 30 minute, until squash is very soft.
Puree and season with salt. If soup is still too thin, continue cooking on medium heat until thick.
Once soup is desired thickness add cream.
In separate sauce pan heat crème fraîche on low heat, add chives.
Serve soup with a drizzle of chive crème fraîche