What's your Saturday morning ritual? Do you get up and go for a run? Sleep till noon? Nostalgically, sit in front of the tv and watch Saturday morning cartoons?
I love to get up and make Saturday morning breakfast for my family. There's no impending pressure of work, we can take our time. We laugh, we discover new foods, and it's an excuse to have a mimosa. For me it feels like a weekly mini-celebration of family.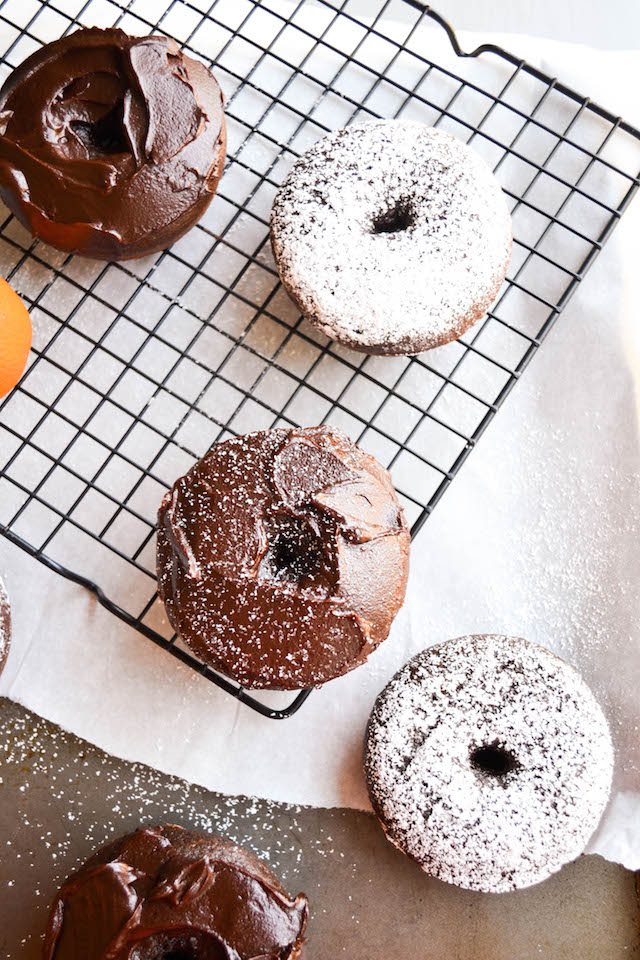 I've been wanting to do a doughnut recipe for awhile now. So I bought a doughnut pan, because ain't no way I'm cleaning up a fry pan full of oil. And I made these delicious stick-to-the-roof-of-your-mouth, drink-with-a-glass-of-milk decadent doughnuts. No really, they taste like chocolate Christmas.
My Notes about My Spiced Orange Chocolate Doughnut Recipe
These have a definitive cakey feel to them. If you don't like cake doughnuts you could try frying them instead (and if you do let me know how they turn out!).
I used this doughnut pan. It worked well. (They also have a heart one, which I'm totally buying for Valentine's Day.)
I played with the idea of adding chocolate chips to give it a different mouth feel, but then I heard you in my head saying, good grief woman, you add chocolate chips to everything. And you would be right, I do. Everything is better with chocolate chips. Just ask my two year old. So, I added chocolate ganache instead. Cause that's totally different, right?
If the ganache is too much for you to handle, you can do a dusting of powdered sugar. I'll think you're a pansy, but I'll understand.

Spiced Orange Chocolate Doughnuts
Ingredients
1 cup of all purpose flour
½ cup of buttermilk
⅓ cup of cocoa powder
1 teaspoon of clementine orange zest
1 teaspoon of vanilla
½ teaspoon of cardamom
pinch of nutmeg
1 egg
1 teaspoon of baking soda
3 tablespoons of orange juice
4 ounces of bittersweet chocolate
¼ cup of heavy whipping cream
1 tablespoon of butter
Instructions
Preheat oven to 350 degrees, grease and flour doughnut pan
In bowl whisk together egg, buttermilk, 2 tablespoons of orange juice, vanilla and zest
In separate bowl mix flour, cocoa powder, cardamom, nutmeg, and baking soda
Working in batches, mix dry ingredients in with wet ingredients
Pour batter into doughnut pan, about ¾ full. Bake for 10 minutes. Do toothpick test and then remove and cool in pan on rack.
Meanwhile, in double boiler, melt chocolate. Add butter and once it's melted, stir in whipping cream. Add tablespoon of orange juice if you like your spiced orange chocolate doughnuts extra orangey.
Once doughnuts are cool, remove from pan and slather in ganache (or dust with powdered sugar if you're boring like that).
What's your Saturday morning ritual?