If you: have no sense of style, no time to shop, hate shopping, love shopping and want another shopping avenue, or have one or more kids (making shopping as complicated as solving advanced calculus) then you should try out Stitch Fix (and if you use my referral link I get a $25 credit). Also, if you've tried Stitch Fix before and are wondering why you aren't getting five pieces you love, I share five secrets on how to get a better fix.
Stitch Fix is a online personal stylist. They send you five pieces of clothes at a frequency of your choosing: one time, every 2 weeks, once a month, or  every few months. You pay an initial $20, which gets paid down on anything you keep. They knocked it out of the park for me this time, I've included my June Stitch Fix review here. I loved most everything in my box and it all fit! But I still want your opinions, tell me what I should keep and what I should send back.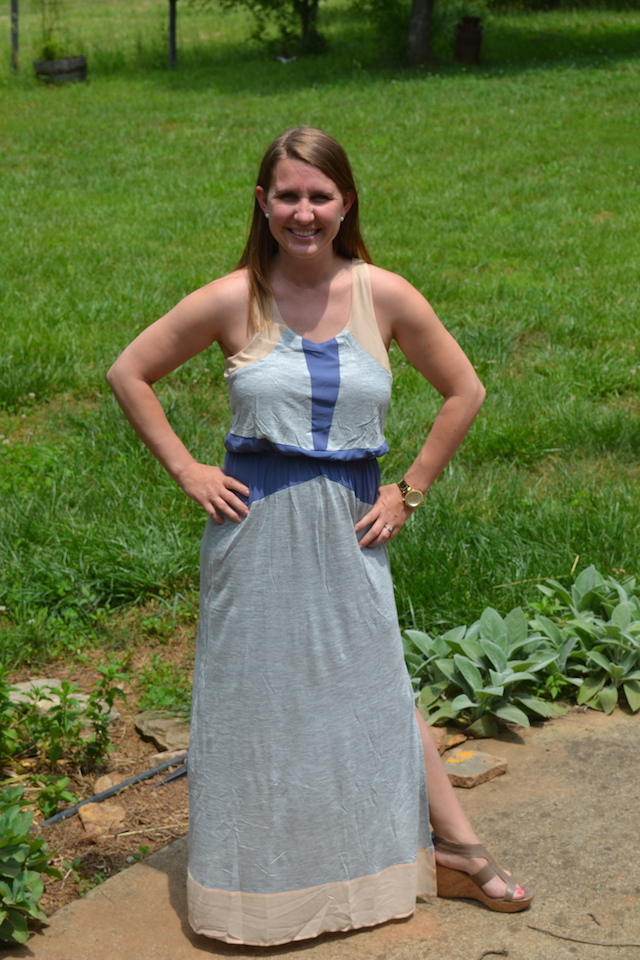 1. Under Skies Clea Colorblock Maxi Dress ($78) Positive: I loved this dress right away. The peach and blue fabric is actually a soft sheer, and the grey is a light knit. It's different than anything I have. It's the perfect length, I can wear it with heels or flats. Negatives: Apparently Joe doesn't like any long dresses? I think I may try and change his mind with this dress.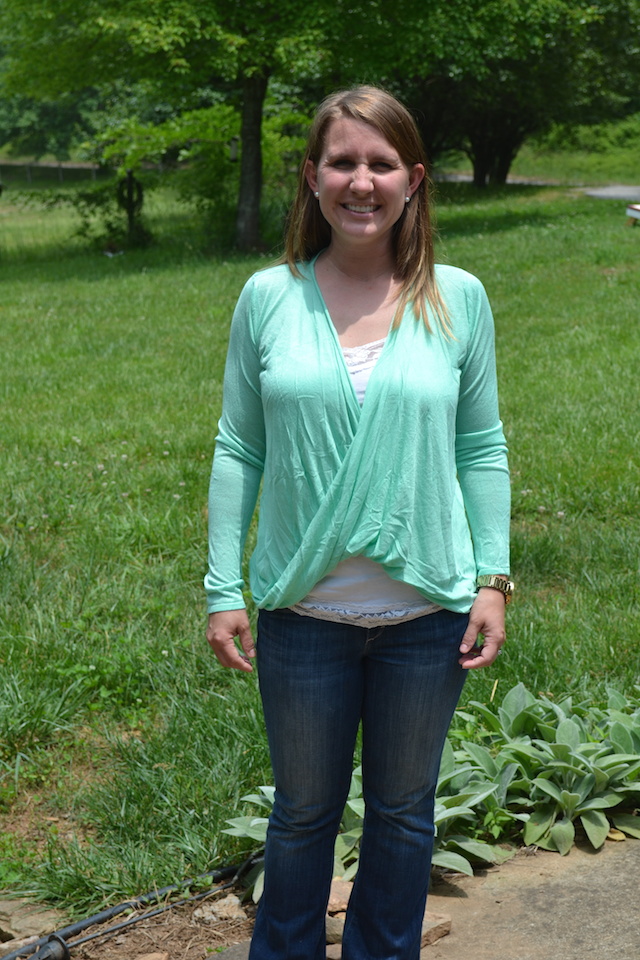 2. Oxmo Jayla Front Twist Sweater ($78) Positives: I love the color. It fits. It's interesting. Negatives: It's a long sleeve sweater in the middle of summer. I do have a front twist shirt in a lime green color. I'm sure on someone else it might fit better, but on me it feels like something I would wear to nurse Marston in. I think I wish the droopy part came down longer.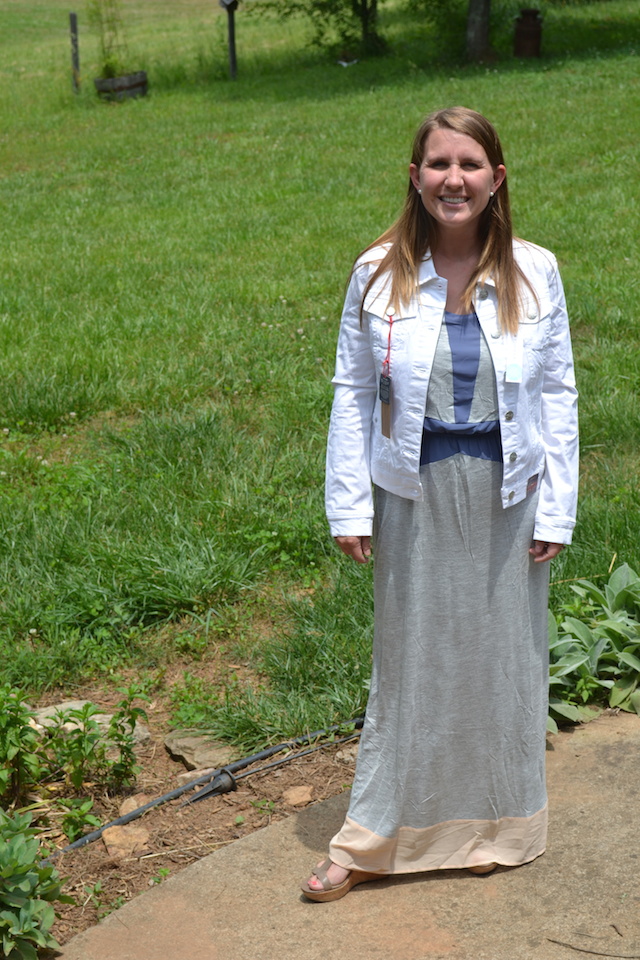 3. Liverpool Gale Denim Jacket ($78) Positives: It's a white denim jacket and I don't have one yet. It fits perfectly (although it doesn't really look that way in the picture). It's pretty. I don't have a denim jacket yet. Negatives: Maybe I lived in Florida too long, but once May hits, I just rarely put on anything with sleeves — long or otherwise. In the 95 degree heat we get, the less clothes the better. If it was socially acceptable to live in my bikini, trust me, I would. On the flip side though, we'll be spending a month in Santa Barbara this summer and they do have cool summer nights.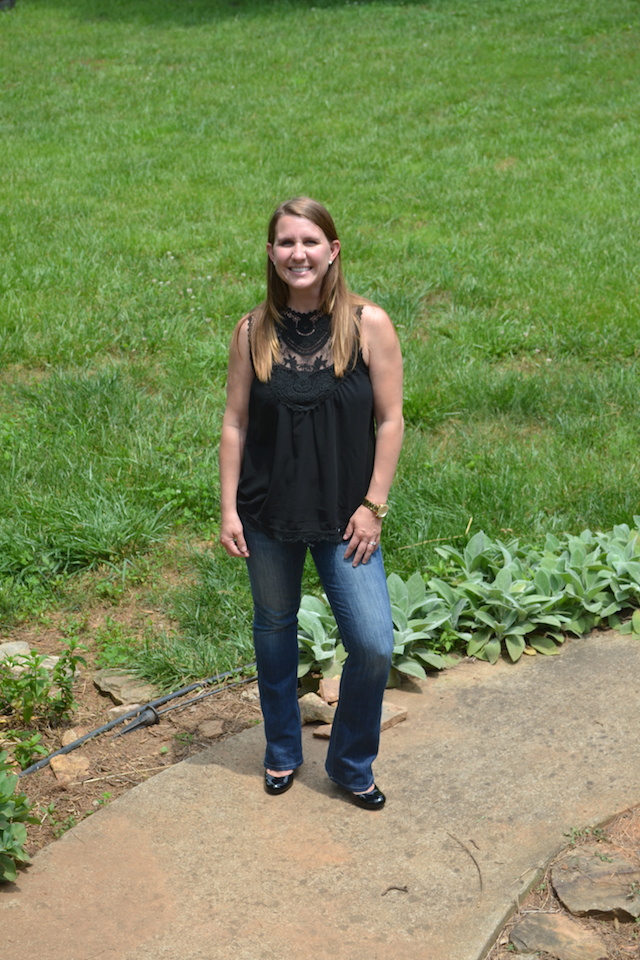 Here's close up on the lace and a picture of the back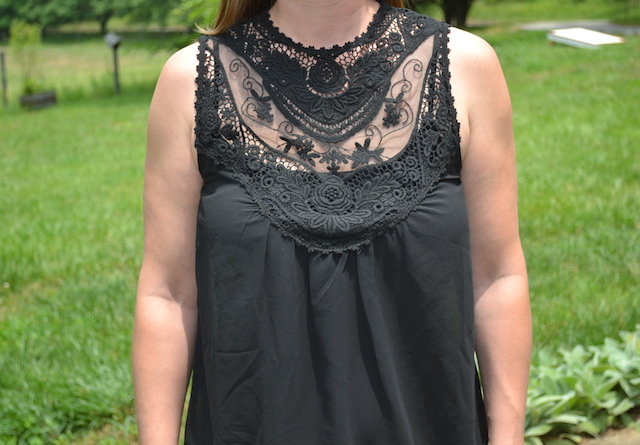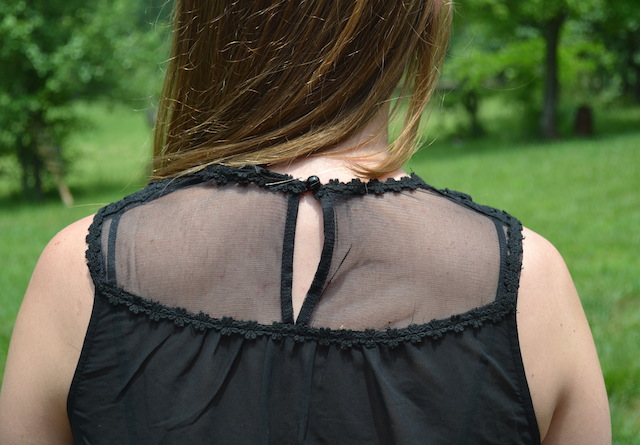 4. Papermoon Cherri Lace Detail Sleeveless Blouse ($48) Positives: It's so pretty. I love the detailing. I love the buttonhole in the back. It's sheer and comes with a cami (bonus). It's long enough for my long torso. Negatives: It hits my neck a little high, which is a little uncomfortable.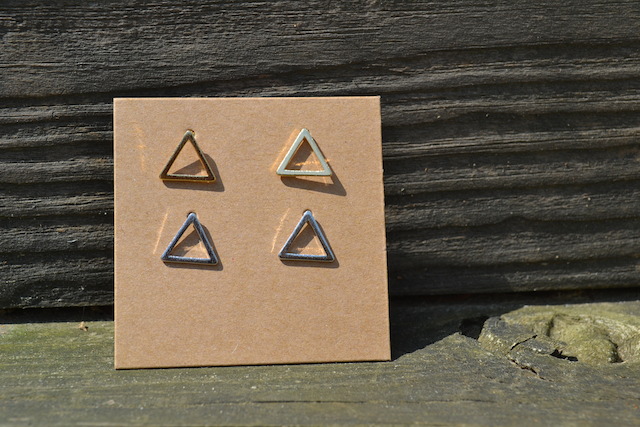 5. Bay to Baubles Angelina Triangle Stud Earring Set ($34): Positives: I like how simple they are . You get two pair. They go with a lot of things. Negatives: I don't need anymore simple earrings. I'm not crazy about triangles.
How I've Learned to Communicate with Stitch Fix Effectively
Pin, pin, pin. My stylist Addie looks at my Pinterest clothing board every single time. She frequently sends me items identical to what I pinned. Pinning pictures of clothes I like also gives her an idea of what I'm looking for. Since words have different meanings to different people, pictures can make a big difference.
Specific Feedback: I try and be as specific as possible about what I like or dislike in my feedback form. I like the fabric and color, but dislike the cut of the dress. Or, I love the cut of the shirt, but really hate chevron stripes. Or, I'm keeping this because I love the lace, I love fabric, I love the color, I can wear it with the new skirt you sent me last month, etc.
Request a Specific Stylist: When you find a stylist you like, request her/him. Stitch Fix employees have lots of responsibilities so their dance ticket may already be full. Or, they may be on vacation or out of the office (they are human you know). But from experience, when possible they will give you the stylist you request. And that stylist will do their darndest to make you happy.
Post Pictures to a Blog (when possible): If you don't have a blog that's okay. I didn't have a blog the first six fixes and still got lovely items. But, if you have a blog, do this (and include your blog link in your style profile). Everyone has a slightly different body type, and seeing how a specific piece fits you helps informs future styling.
Remain Open to Your Stylists Suggestions: Addie is my stylist for a reason. And that reason is because all I buy is white cotton t-shirts. If I want to look like I belong in this century I need Addie to be my bestie.
Tell me what you think. What should I keep? What should I send back?