Hope you had a wonderful Memorial Day, celebrating our freedom and honoring those who died fighting for it. We grilled out, no surprise there, and had a quiet evening in. I found a mahi-mahi filet on sale at the market two days ago, so I marinated it and topped it with a watermelon peach salsa. I love sweet and spicy salsas, they're fresh, brighten up the plate and compliment white meats well. And you can eat the leftovers with chips! Recipe here.
I went deep sea fishing off the coast of Mozambique once. My friend threw up over the side of the boat just as the wind started blowing to the downside of the boat where I was leaning over the side. It was not the best moment of my life. Fortunately I caught a massive fish that we grilled two hours later and it was one of the best moments of my life. Seriously, best seafood I've ever had.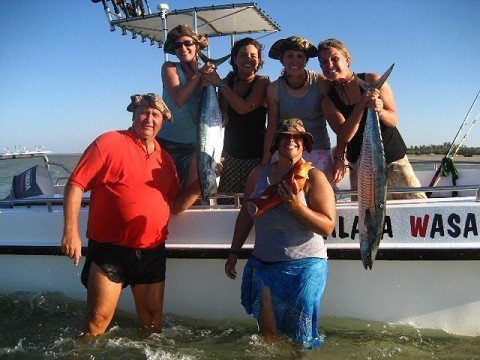 (Me and my yummy fish that I caught)
Speaking of seafood, here's a picture of the mahi-mahi we grilled on the BGE which I marinated and grilled and then topped with a watermelon peach salsa. I forgot to take a picture until after I started eating, cause it was so yummy. But lucky for you, I paused mid-meal so I could quick grab my camera and share the goodness.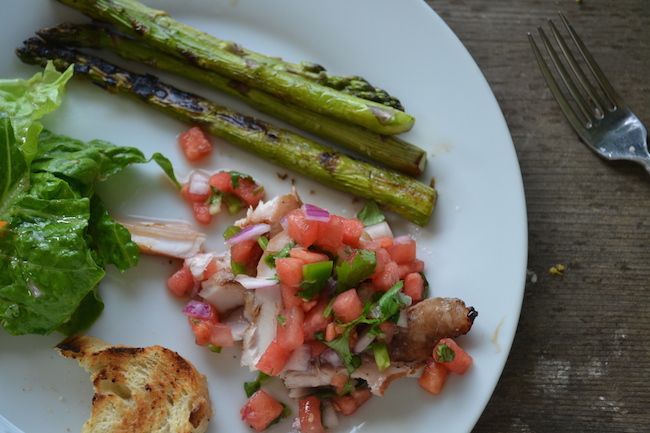 I highly suggest you try this yourself. I love fish, but I don't like plain fish. This salsa is not only yummy but makes the plate of food so much more appealing to the eye and the tummy. If you don't have watermelon or peaches, you can use two complimentary fruits and they should work just as well.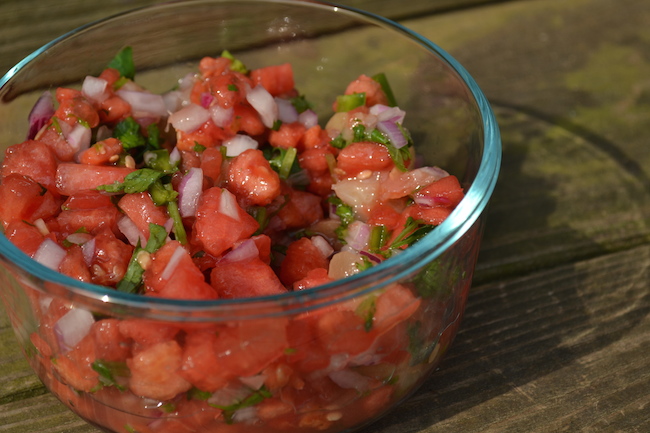 Ingredients
3 white peaches diced
2 cups of watermelon diced
1/3 bunch of cilantro chopped
1 small red onion diced
1 jalapeño seeds removed and diced (include seeds for more spice)
1 large heirloom tomato chopped
juice from one lime
Combine all ingredients in bowl except for lime juice. Stir in lime juice in batches, tasting between. Add additional lime juice if salsa isn't acidic enough.
How did you spend your Memorial Day?