All my siblings, plus spouses, plus grandchild, plus a random cousin ended up at my folk's last night. So mom and I quickly threw a meal together. When you're feeding the masses, there's nothing easier than pasta. Here's a quick, simple dish that smells decadent and tastes like you've been slaving away all day.
One of the things that makes this dish so easy is you don't have to plan it out far in advance, most of the ingredients are easy to keep in the cupboard. It was originally inspired by a from the Pioneer Woman. However, I've gravitated away from a couple of the ingredients and simplified for what is easy to keep on hand. Now we eat this meal anytime we've got more than 5 people in the house!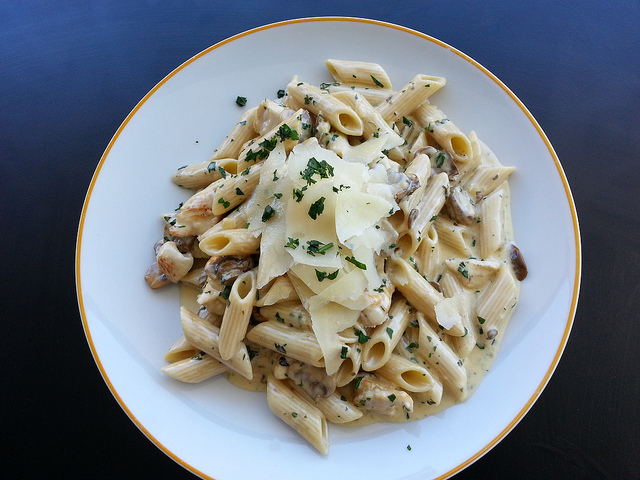 You can easily substitute fresh mushrooms or a different kind of dried mushroom if you don't have access to chanterelle. Just look for a nutty meaty mushroom. And if your'e using fresh, make sure to roast the in the oven before adding them to the cream sauce.
Ingredients
2 medium shallot minced
2 ounces of dried chanterelle mushrooms
1 garlic clove minced
3/4 cup of dry white wine
3/4 cup of heavy cream (can use 1/2 and 1/2 for fewer calories, but fat is where its at I tell you)
1 tablespoon of olive oil
1 pound of your favorite pasta (penne works well)
Parmesan cheese
Sauté shallots in olive oil until translucent. Add garlic, sauté until just fragrant and add wine. Simmer and reduce by half. Add in cream and simmer for a few minutes and remove from heat.
Add dried mushrooms and let soak for about 30 minutes to rehydrate mushrooms. Return to heat.
Boil pasta to al dente, drain and mix with mushroom sauce. Garnish generously with parmesan. Try not to die of happiness.