Easter is this Sunday. We'll be celebrating in Florence with Joe's family and I cannot wait. His parents arrive tomorrow, and chocolate tasting with my mother-in-law will probably be the highlight of my trip. One of my favorite Easter activities is a Sunrise service at home with my family followed by brunch. In honor of them, here's my go-to breakfast casserole for any brunch.
Easter in Georgia
If I were at home we'd sit out on the front porch, watch the sun rise and read the original Easter story as a family. When we finished, we'd go inside and drink coffee, orange juice and eat breakfast casserole (and okay, maybe mimosas—just don't tell all the Southern Baptist ladies who live in my town). And we would spend the day being family together (which for me means games and lots of laughing).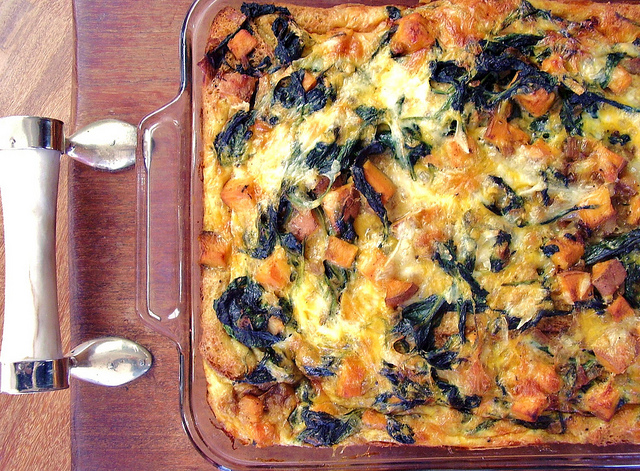 Photo Credit: Jackie Newgent (Creative Commons)
Breakfast Casserole on the Fly
Maybe it's the P in me (Myers-Briggs anyone?), but what I love about this dish is that you don't need to plan ahead. Most breakfast casseroles and stratas need to sit for at least 45 minutes in the fridge (some need to sit overnight), before you put them in the oven for another 45 minutes. When I wake up on Saturday morning and decide to have an impromptu brunch, I don't want to have to wait two hours to eat. With this casserole, you can pop it in the oven, call your friends and by the time they show up, it's ready to go.
Photo Credit: aussiegall (Creative Commons)
Kale and Sausage Breakfast Casserole
Ingredients
1 bag of croutons
1 pound of sausage
1 bunch of Kale, chopped
2 cloves of garlic, minced
1 tablespoon of oil
1 pound of monterrey jack cheese, shredded
8 eggs
½ cup of milk
Instructions
Preheat oven to 350 degrees
Sauté sausage in a pan, breaking it up with a spoon, until brown and cooked through. Drain the sausage and discard the fat (not down your sink drain!).
In separate large fry pan, heat oil and sauté garlic until fragrant, add in kale and continue to sauté for about 30 seconds. Pour in ½ cup of chicken stock, cover and braise for about 5-10 minutes, until kale is tender, but still has its form. Drain off excess liquid.
Beat eggs with whisk, continue to beat while adding in milk
Grease 13x9 pan with butter and line the pan with croutons from the bag. Spread the sausage out over the croutons. On top of the sausage spread out kale. Then, sprinkle 12 ounces of the cheese. Pour the egg mixture onto of the cheese and sprinkle the remaining cheese over the egg mixture.
Bake for 30-45 minutes, until golden brown and the egg mixture is set.
Have you tried these kale and sausage breakfast casserole? Did you like it? I'd love to hear your thoughts. Comment and rate it below!