Yesterday we talked about why you should not go out to eat on Valentine's Day. In case you were getting all sneaky and thinking, okay, I'll just go out for brunch, DON'T BE DOING THAT. My favorite thing in the world is to go out to eat and experience someone else's imagination in the form of food. But when it comes to V-day, just wait an extra week. Let the chaos calm down and return to your favorite restaurant when they are not swarmed with patrons who haven't gone out to eat since last Valentine's Day.
Valentine's Day should be leisurely and enjoyed, not rushed and stressful. So wake up early and make her/him  breakfast in bed.  These delicious Mexican Beignets with Chocolate Dipping Sauce will change your life, or at least your morning.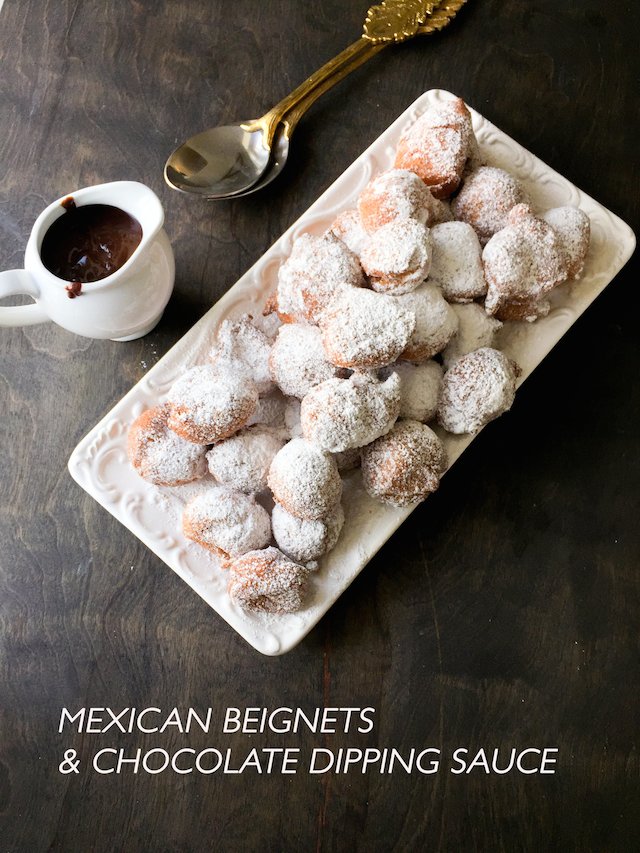 My Notes on Mexican Beignets with a Chocolate Dipping Sauce
My beignet recipe was adapted from a recipe I found on Food and Wine.
The only thing that makes this recipe Mexican is the inclusion of cinnamon. But I like the mashup of two different flavors. The night before I first made this I was trying out Sean Brock's new restaurant, Minero and we had his churros with Mexican chocolate sauce for dessert. The next morning I wanted Krispy Kreme but I didn't want to drive, and thus, these Mexican beignets with chocolate dipping sauce were born.
If you can get a helper to toss the beignets in the cinnamon sugar while they're still hot and then dust them with powdered sugar, you can get them all done while they're still hot. I recommend this method, as does my two year old helper.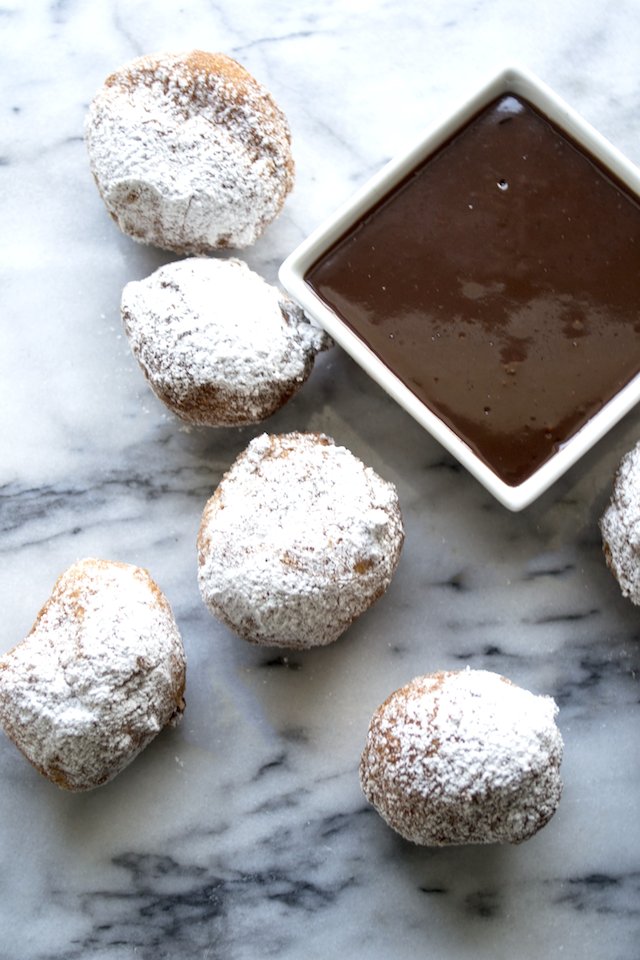 Mexican Beignets with a Chocolate Dipping Sauce
Recipe type:
French Mexican
Ingredients
1 stick plus 1 tablespoon of salted butter
1 cup of water
1 cup + 1½ teaspoons of granulated sugar
1 cup of all purpose flour
1 teaspoon of vanilla extract
½ teaspoon of cardamom
5 eggs at room temperature
4 cups of vegetable oil for frying
1½ tablespoons + 1 teaspoon of cinnamon
⅔ cup of heavy whipping cream
¾ cup of bittersweet chocolate chips
1 tablespoon of light corn syrup
powdered sugar for dusting
Instructions
Cinnamon Sugar Mixture
Combine 1 cup of sugar and 2 tablespoons cinnamon in bowl.
Chocolate Sauce
Place chocolate chips in mixing bowl.
In small sauce pan bring cream to simmer. Pour immediately over chocolate chips. Let sit for two minutes and then stir until smooth. Add in cinnamon and corn syrup and stir until thoroughly mixed and smooth.
Beignets
Combine water, 1½ teaspoons of sugar and butter in small sauce pan. Bring to a boil and remove from heat.
Add in flour and stir. Return to heat and stir until smooth, about one minute.
Transfer dough to large bowl and using hand mixer, add in vanilla and cardamom. Continue beating and add in eggs one at a time.
On stove in large saucepan, heat oil to 350 degrees. Working in batches, drop in tablespoon size balls of dough. Fry until golden brown, about 5 minutes.
Transfer to paper towel lined plate. Using toothpick, poke hole in beignet to allow steam to escape.
Toss beignets in cinnamon sugar mixture
Set on plate and dust with powdered sugar
Serve with Chocolate Sauce
Have you tried this Mexican Beignet recipe? Did you like it? I'd love to hear your thoughts. Comment and rate it below!