In 2012 I instagramed this picture of the saddest chocolate chip cookie recipe I had ever made.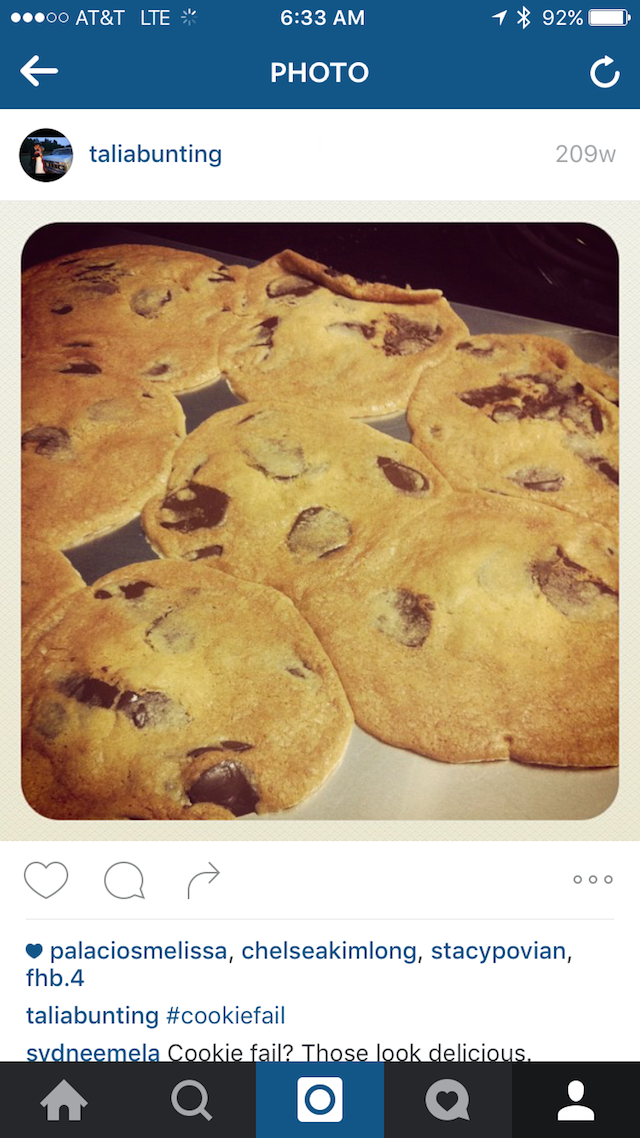 For years, I've been trying to find and develop a chocolate chip cookie recipe that both tasted amazing and didn't turn into a cookie puddle in the oven.
My grandma taught me to use half butter and half crisco, but I'll be honest, if you do that, you get half flavor.
I had an old roommate from my mid-twenties who used to make the most amazing chocolate chip cookies with a  really complicated method that required like twelve bowls. But seriously, who has time to wash twelve bowls?
This is my chocolate chip cookie recipe I've come up with. I share my notes on each decision I made along the way.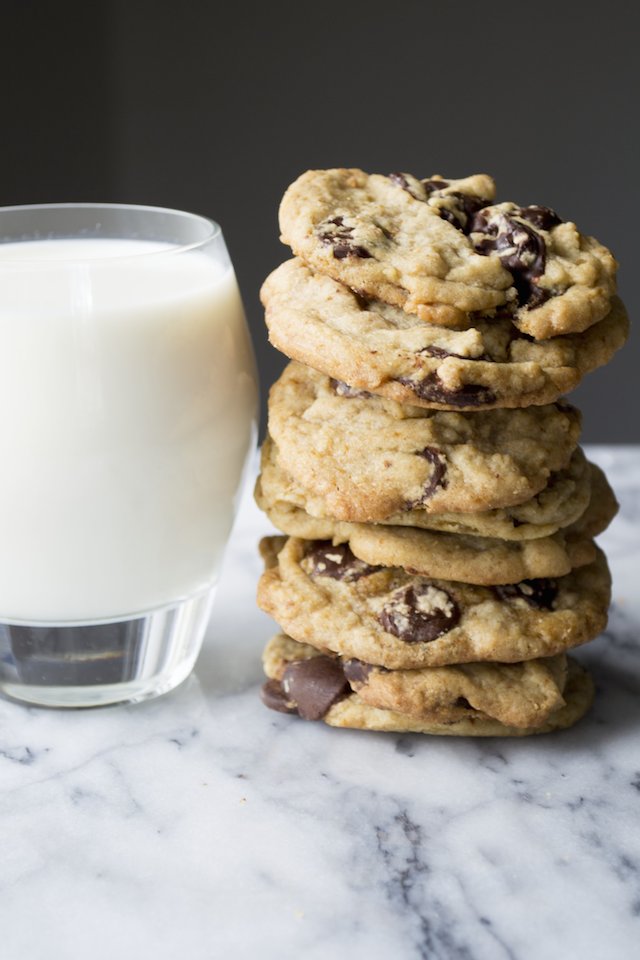 The Anatomy of My Chocolate Chip Cookie Recipe
Why I use salted butter: For years, every chocolate chip cookie recipe I have ever read has said to use unsalted butter. I, on the other hand, have always used salted butter. There is about a 1/4 teaspoon of salt (depending on the brand) per stick of butter. I'll be honest, I like salted butter better than unsalted. I have no science to back this up, I just like cookies made with salted butter better. And also, who has time to be buying two kinds of butter!
Why I use coconut sugar: Coconut sugar is lower on the glycemic index. I don't think the cookie is as sugar sweet with this sugar. Bonus: It's less processed than white sugar. I hear this is a good thing. Additional bonus: I don't use coconut sugar in much, so I usually have some in my cupboards. (If you don't want to make this switch, you don't need to, just use the same amount of brown sugar instead.)
Why I use an egg yolk instead of a whole egg: If you couldn't tell from my earlier pictures, my cookies often ended up flat, melted in to each other. Sometimes I would try adding more flour to try and even out the consistency, but then they were just thicker, chewier, flourier flat cookies. The extra flour detracted from the flavor significantly. I was listening to Americas Test Kitchen one day though, and they suggested to someone that the reason one of their caller's cookies were flat was too much moisture in the dough. They said to leave out one of the egg whites, which would remove some of the moisture. This made a huge difference in my cookies. If you do nothing else different, do this.
Why I use King Arthur flour: King Arthur flour is significantly better. They use a red hard wheat and the protein content is 11.9 percent. Most other brands are around 10.5% or so. Higher protein content means better structure in your cookies. And, their standards for milling are very high which means consistency in your baking. There are only a couple things that I am die hard brand loyal about, flour is one of them. I noticed a marked difference when I switched to King Arthur.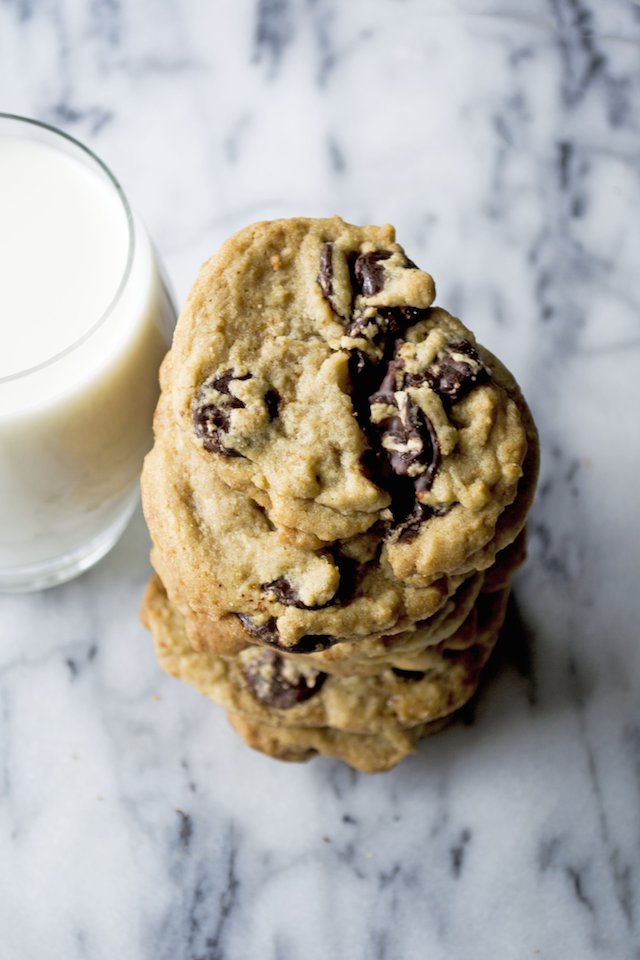 Why I use Ghiradelli Bittersweet Chocolate Chips: What kind of coffee do you drink? Blue Bottle Coffee? Starbucks? Have you ever tried going back to Folgers? Did you vomit a little bit in your mouth just thinking about it? If you can understand that to that then you understand why I can never eat Tollhouse chocolate chips ever again. They taste like fake plastic sugary things. I'm not saying Ghiradelli is the equivalent of Jacques Torres chocolate, I'm just saying the flavor is incredibly better than Tollhouse. Next time you're at the store, buy a bag of each brand of chocolate chips available. Do a taste test and I promise you, you'll be ruined for any other kind of chocolate chip. For the fifty cent price difference, it is absolutely worth the money.
Why I refrigerate my cookie dough before baking: I've read many different thought processes on why you should refrigerate your dough before baking. One podcast said that it helps the butter solids reform so that when it hits the oven it takes longer to melt so you don't end up with a cookie puddle (see first image). This New York Times article says that eggs are slow moving, so the extra sitting time allows the flour to soak up the egg making for a drier dough. Consequently the cookie bakes more evenly. In an informal taste test, they found that the longer refrigerated cookie dough was much yummier.
Other notes: If you want a crispier cookie, try baking at 325 for 10-12 minutes. If you want a softer cookie, pull them out right before they are done.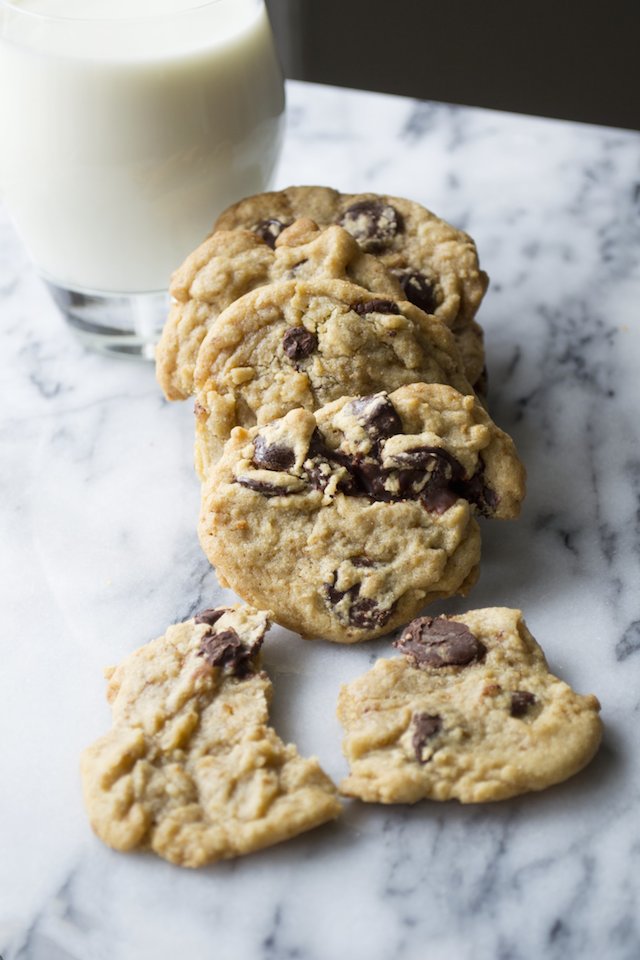 My Anti-Flat Chocolate Chip Cookie Recipe
Serves:
two dozen cookies
Ingredients
1 cup of salted butter
¾ cup of granulated sugar
¼ cup of brown sugar
½ cup of coconut sugar
1 egg
1 egg yolk
1 teaspoon of baking soda
1 teaspoon of vanilla
2¼ cup of King Arthur flour
Instructions
Preheat oven to 350.
Cream together butter and sugars.
Mix in egg and egg yolk
Mix in baking soda and vanilla
Mix in flour
Mix in chocolate chips
Refrigerate overnight, but they are best after 36 hours
Line a jelly roll pan with parchment paper
Bake for 8-11 minutes until cookies are golden.
Have you tried this chocolate chip cookie recipe? Did you like it? I'd love to hear your thoughts. Comment and rate it below!