Valentine's Day is in 6 days. As a former bartender and restaurant server, the absolute worst day you can go out to eat is Valentines Day, (followed quickly by Mother's Day). EVERYONE and their cousin (but hopefully not with their cousin) is going out to eat on Valentine's Day.
Restaurants have pulled all their extra tables out of storage and jammed them together. The menus will feature scallops and filet mignon and inevitably some kind of chocolate lava mousse cake for dessert. All of which will taste good but won't have any creativity or ingenuity at all.  And also you'll be smelling Cody and Mary Jane the whole night because they'll be sitting 6 inches away from your table. Hopefully he didn't bathe in cologne.
Ya'll, STAY HOME. Don't join that circus. That's not love, that's insanity! Why would you want to spend $300 on overpriced wine and steak when you could stay home, drink the same bottle of wine for $50 and make these red wine braised short ribs? Go buy this bottle of wine, braise your short ribs, make this salad, and bake a chocolate chip cookie. (Seriously, you could slave over some fancy custard or just make cookies. Everyone loves cookies.) Light some candles and you're good to go. You can enjoy hearing your partner talk without being rushed by the restaurant to finish your ribeye in time for their next reservation.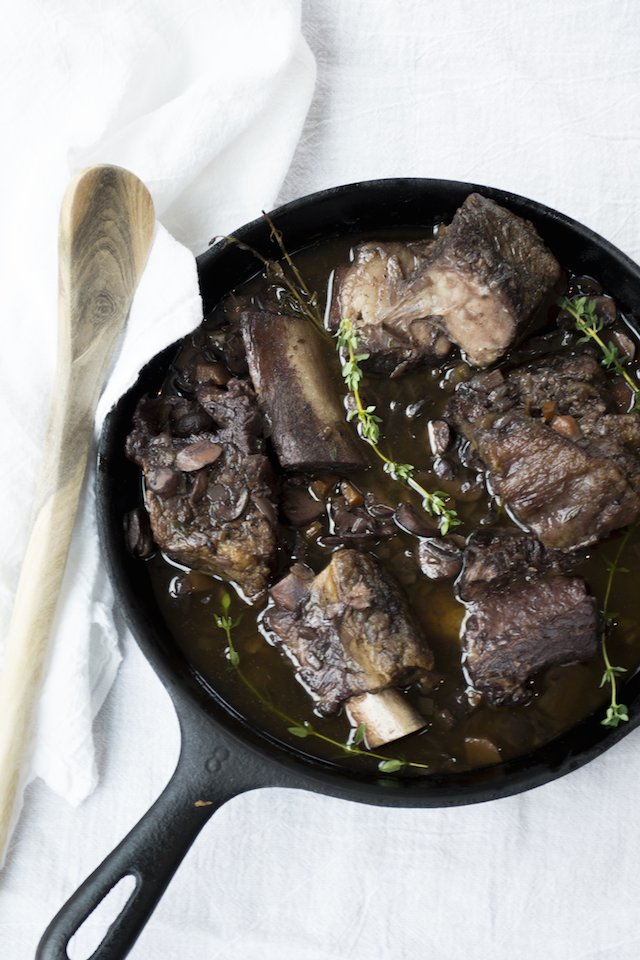 My Notes on Red Wine Braised Short Ribs
Braising basically means to cook in liquid, and so be sure to check the short ribs as they cook. If the liquid levels get too low, just add more to the pan.
If you have too much liquid left when it's finished cooking, just bring it to a boil on the stove and reduce it into a nice sauce.
There are three cuts of short ribs: English-cut, flanken, and boneless. Use English-cut for this dish.  The bones add delicious flavor. It's possible to use boneless as well, they just won't be as delicious. It is not possible to use flanken. Flanken ribs are best cooked over high heat for shorter periods of time.
The best part about braised short ribs is you can make them a day ahead and they are even better the next day. If possible I recommend cooking on Saturday in time for Sunday Valentines day. Just reheat at 300 degrees until hot the day of (probably about 30 minutes).
I'll be on twitter and instagram all day Saturday and Sunday if you have questions!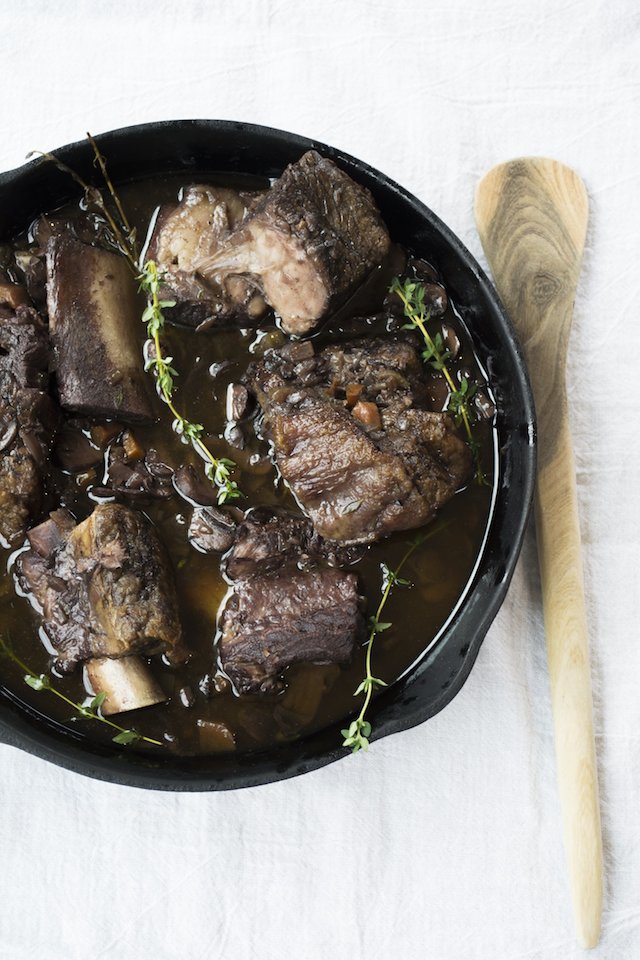 Red Wine Braised Short Ribs
Ingredients
1 bottle of dry red wine
1 pound of baby bella mushrooms, sliced
4 carrots diced
3 celery stalks, diced
4 large shallots, minced
6 lbs of short ribs
6 sprigs of thyme
kosher salt
olive oil and butter
Instructions
Preheat oven to 300.
Bring ribs to room temp and season generously 50 minutes prior to cooking.
While ribs are coming to temp, sauté mushrooms in oil and butter. Make sure to salt while cooking. Set aside.
Heat dutch oven or cast iron skillet on high heat. Once hot, add oil and butter and slightly reduce heat. Sear ribs on all sides, about 8 minutes, turning every 30 seconds. There should be a nice brown crust once you're finished. Remove from skillet and set aside.
Add shallots to the skillet, adding a little more oil and butter if there isn't enough fat. Saute until brown and then add carrots and celery. Sweat for about 20 minutes on low heat.
Return heat to medium high, add in sautéed mushrooms and deglaze with wine, scraping up sucs. Bring to a boil on the stove then return ribs to the pan.
Cover, leaving lid cracked, and put in oven.
Braise about 4 hours, checking every 45 minutes or so to make sure liquid hasn't evaporated. Ribs should be falling off the bone and meltingly tender.
Have you tried these braised short ribs? Did you like it? I'd love to hear your thoughts. Comment and rate it below!