My sister is having a housewarming party tonight which means I get to eat hamburgers. I love hamburgers so much. When I was pregnant, I would eat them for breakfast. Although that's not saying much cause even when I'm not pregnant I eat them for breakfast (never judge me). One day I'll share my favorite hamburger recipe, but I'm still working on it. In lieu of one I'm proud of, here's a great side that goes with hamburgers – kale and brussel sprout coleslaw that I'm bringing with me tonight.
If you're getting sick of recipes that either go on the grill or with something from the grill, real sorry about that. The grill is just so yummy in the summer! It calls to me begging to be used. I can't say no!:)
A Healthy Coleslaw
To be clear I hate traditional coleslaw. Mostly I feel like, who wants to eat a mouthful of cabbage covered in mayonnaise? No one. The answer to that is no one. This is really more of a shredded kale salad. I've tried a number of different dressings and have landed on one I like, it's got the appropriate level of sweetness with a little bite and flavor mixed in. It's fantastic.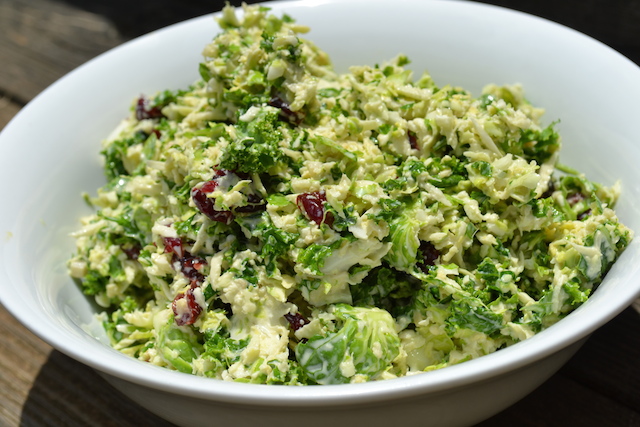 In addition, this version of coleslaw is good for you. Cruciferous vegetables may help prevent cancer and when they're served raw you maximize the amount of nutrients you take in (they deplete as you cook them).  The dressing (adapted from this Food and Wine's recipe) isn't the healthiest thing you'll ever eat, but if you make the mayonnaise homemade, it's not so bad.

Kale and Brussel Sprout Slaw with Sweet and Tangy Dressing
Ingredients
¼ head of cabbage
1'2 pound of brussel sprouts (ends cut off)
½ large bunch of kale (stems removed)
½ cup craisins (or so)
1 cup of homemade mayonnaise
2 tablespoon lime juice
2 tablespoon of minced ginger
1 teaspoon of sesame seed oil
1 teaspoon of soy sauce
6 teaspoons brown sugar
2 teaspoon of rice vinegar
2 tablespoons of sour cream
Instructions
In food processor shred cabbage, brussel sprouts and kale. Put in large bowl. Shake in craisins. I typically just shake in some until I like the color distribution.
In small bowl whisk together mayonnaise, lime juice, minced ginger, sesame seed oil, soy sauce, brown sugar, rice vinegar and sour cream.
Pour dressing over cabbage mixture and stir.
Now that I've shared most of my favorite grilling sides, I need new ideas!:) What's your favorite hamburger side?