Today we're making a St. Germain kumquat cocktail (if you couldn't tell from the title). Joe and I are in California right now visiting my favorite in-laws and you can't walk farther than the mailbox without being assaulted by all the citrus. Everyone has citrus trees, in their front yard, back yard, side yard, THEY ARE EVERYWHERE. My in-laws have a lime, lemon, Meyers lemon, tangerine, and orange tree. And all these trees are about to snap in half with all the fruit hanging from their limbs. All of that to say, you can plan on seeing twelve different citrus recipes over the coming weeks, you lucky thing you.
And I'm kicking it off with this St. Germain kumquat cocktail. It's low(er) calorie and very refreshing. Prepare to be delighted.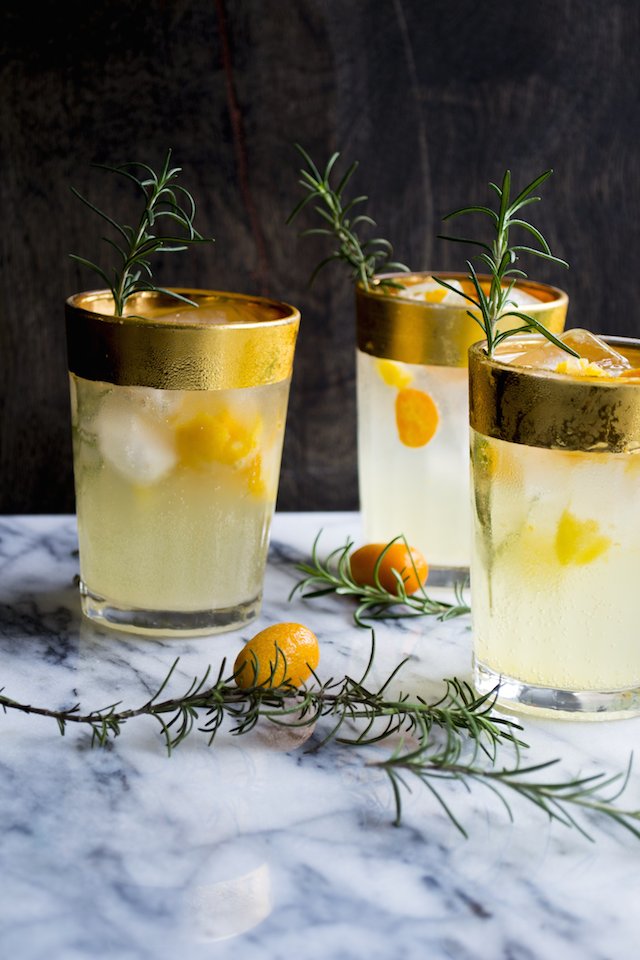 My Notes on the St. Germain Kumquat Cocktail
You may consider peeling the kumquat before making this, but you would be making a mistake. The fruit of the kumquat is sour and tart. It's actually the rind that is sweet. The rind is the yummy part. Don't get rid of the rind.
I recommend New Amsterdam gin for these drinks. It has grapefruit undertones which pair nicely with the kumquat, on account of the citrus. But also, if you only have Hendricks, well that's not the worst thing in the world either.
If you're unfamiliar with St. Germain, familiarize yourself asap. It is a French elderflower liquor made from flowers gathered from the French Alps. You can feel fancy when you drink. If you need another recipe, you should try this one.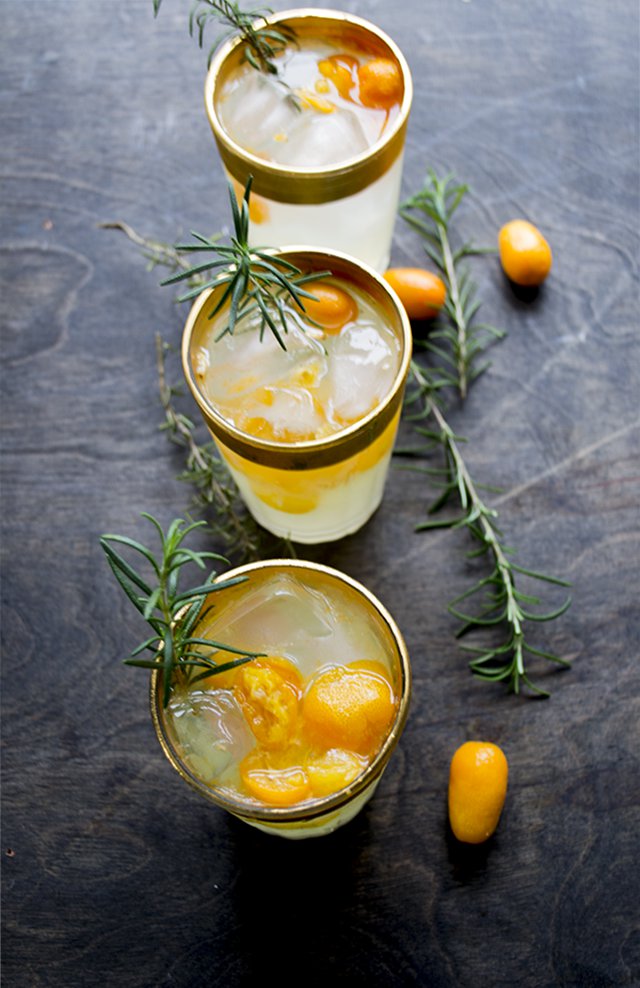 St. Germain Kumquat Cocktail
Ingredients
1 ounce of gin
½ ounce of St. Germain liquor
3 kumquats sliced in half
4 ounces of club soda
1 sprig of Rosemary
2 spoonfuls of sugar
Tumbler full of ice
Instructions
In glass muddle together sugar and kumquats until almost syrupy.
Pour in gin and St. Germain and a splash of the club soda, muddle the kumquats a bit more.
Put ice in cocktail shaker and pour in gin mixture. Shake it up and pour into tumbler. Make sure the ice goes to the top, if it doesn't, add more. A good cocktail is full of ice.
Pour in drink and garnish with rosemary sprig
Drink!