My sister got married this past weekend. Joy and merriment abounded. And on Saturday night, just as the rain began to pour, 85 people gathered on my mom's porch for a rehearsal dinner of New York strip, broccoli salad, pasta salad and potato salad (we ate a lot of salad). Everything was so yummy.
It was so yummy and my favorite kind of rehearsal dinner – backyard grilling out, delicious sides (potato salad, duh), drinks and a little cornhole. I don't know what more you want out of life. Except for maybe a little Irish dancing which we did once the rain let up (my brother-in-law is Irish). It was my favorite.
Since you guys couldn't all come (my mom said I couldn't invite all my blog readers — booorring) I thought I'd share the recipe for my potato salad here. That way you can at least have a little taste of what our fabulous weekend was like.
(Sour Cream Based) Potato Salad
As a recent mayonnaise convert, for years I hated potato salad. A perfectly good potato slathered in mayonnaise did not sound appealing to me. And  going to yet another backyard barbecue and only eating a hamburger gets old after awhile.
I knew I liked baked potatoes, so I started throwing in some of the ingredients for a baked potato and voila, it was delicious! I'll eat traditional potato salad now, but this is still my favorite kind to bring to parties. It can be served warm or cold and is always tasty.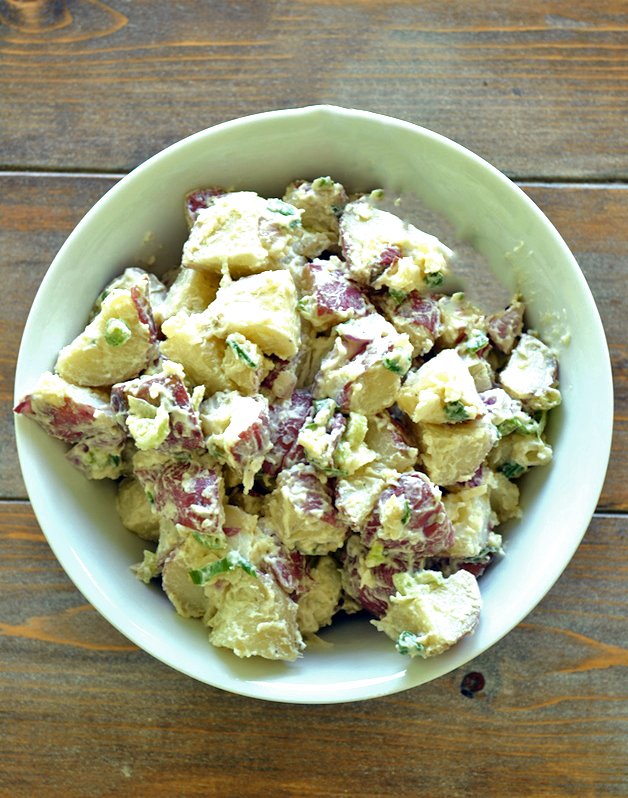 The World's Best Potato Salad
Ingredients
4 pounds red potatoes, quartered
2 tablespoons of butter
¾ cup of sour cream
¼ cup of mayonnaise
4 green onions sliced
salt and pepper
Instructions
Add potatoes to pot of cold salted water and bring to a boil. Boil until soft.
Drain and put into large bowl. While potatoes are still warm, add butter, sour cream, mayonnaise, chives and stir until covered.
Salt and pepper to taste.
Serve with:
 Hamburgers and broccoli salad
Drink with: Blue Moon (because yum).