How many times have you gone to the market during the holiday season, purchased pomegranates and then thrown them away January 1, because you can't figure out how to cook with them? If you said, "every damn year" then welcome to the club.
Pomegranates are beautiful and festive and I love pomegranate-influenced foods. The problem is I never actually make pomegranate-influenced foods. Usually they sit in a pretty bowl on my table and rot. This year it's different. This year, I'm buying all the pomegranates and I'm actually using them. I started last week with this tasty salad, today we're pairing them with roasted vegetables. Later this week, I'm thinking about a red wine pomegranate sauce (clearly I'm feeling ambitious), we'll see.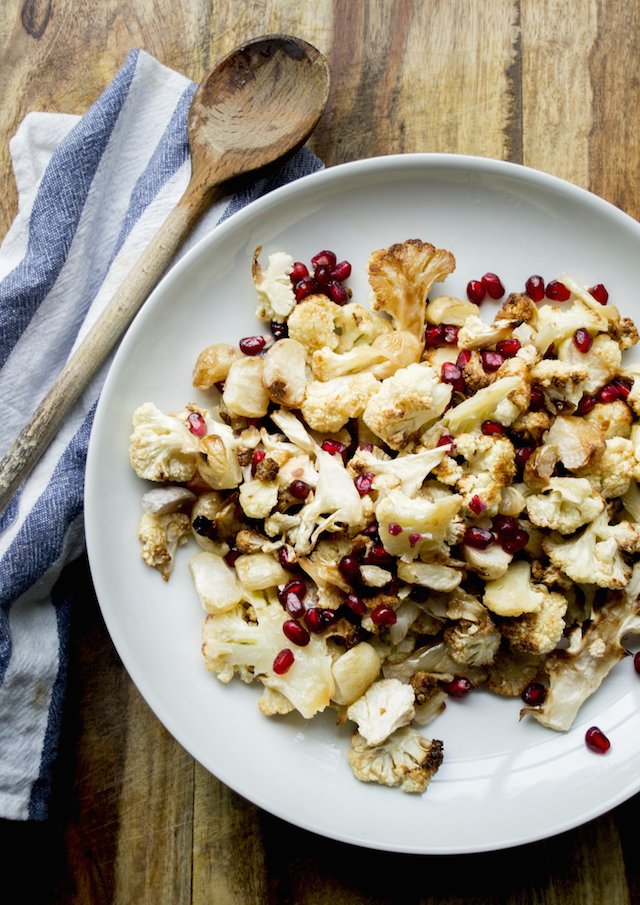 My Notes on Roasted Cauliflower, Radishes and Pomegranate Seeds
I walked through the market the other day, and noticed a few stray easter egg radishes (easter egg radishes are traditionally grown in the spring, but can also be grown and harvested in early fall). I scooped them up and decided to add them to this dish. If you can't find easter egg radishes (which are sweeter than normal radishes), you can also use hakurei turnips.
Ovens are different, if your oven runs cold, increase the temperature to 400. If you have a convection oven, use that – the vegetables will cook more evenly (as well as quicker) on convection.
Use a jelly roll pan when roasting the vegetables. This way when you toss them, they won't fall off the pan.

Roasted Cauliflower with Easter Egg Radishes and Pomegranate Seeds
Ingredients
1 head of cauliflower
1 bunch of easter egg radishes
½ cup of pomegranate seeds
¼ cup of olive oil
1 tablespoon of kosher salt
Instructions
Preheat oven to 375.
Slice cauliflower in half and remove greens. After removing greens cut thin slices (faster and more even cooking) and place in large bowl.
Wash radishes and remove greens (greens can be juiced, sautéed or thrown in a salad). Cut radishes into halves or quarters, depending on size. Add to cauliflower.
Toss cauliflower and radishes in olive oil and salt. Roast for 40 minutes (20 minutes on convection). Toss once half-way through.
When finished cooking, place in serving bowl, add pomegranate seeds and toss. Serve immediately.
What are your favorite pomegranate recipes?