There's nothing I love more than a tender, juicy, rotisserie chicken. Unless it's the chicken skin off said rotisserie chicken (I don't want to hear it, it's delicious. Plus, you should read this article before you judge). Using up the leftover back pieces of chicken always requires a little creativity, lately I've been throwing them into a little chicken salad which I share below.
The French Love Family
My favorite thing about these past two months in Paris is how much Parisians love babies. And it's not just the women, as is stereotypical in the U.S. The men here become little balls of mush around Mars. It's very tender.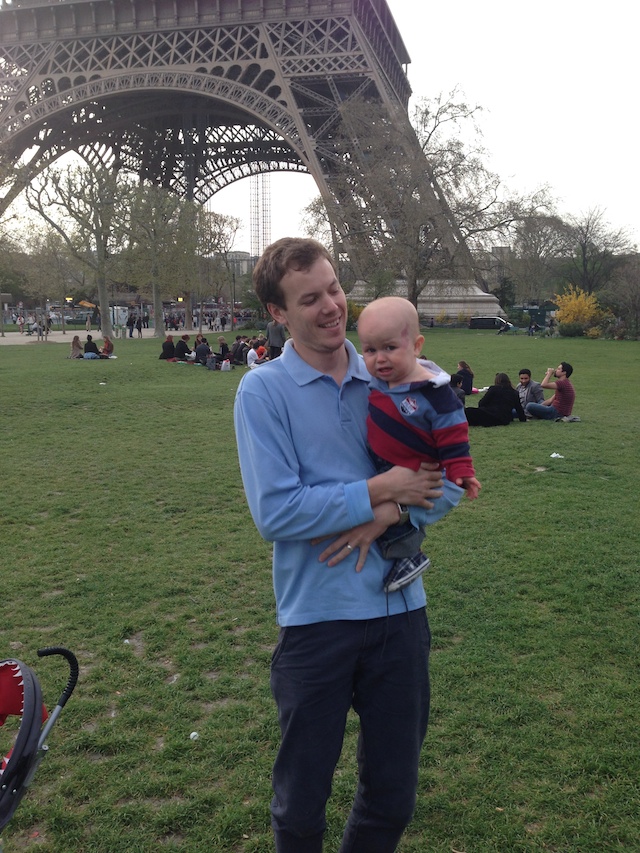 Mars is clearly equally enamored
Men here commonly push their babies in their strollers, run errands with their children and all around dote on anything small. I can't go to the market without all three of the fishmongers coming out and pinching Marston's cheeks. The fruit man gives him a strawberry every day and the wine man plays hide and seek and kisses his head. Truly, it's precious.
The women are just as smitten, they stop me in the street every day to tell me, "petit garçon mignon," (What a cute little boy), and like I said yesterday, assume it's their duty to make sure he's bundled up properly. I love how much the French cherish family here. It has made our time in Paris even sweeter.
Roti Poulet
The other thing that has made our time here sweeter (aside from the pastries) is the chicken. Every Tuesday when I go to market, I stop at the roti poulet stand and pick up un petit poulet. We eat chicken falling off the bone for lunch on Tuesday and then on Wednesday I pick the rest of the meat off the bone and make chicken salad (on account of the ubiquitous mayonnaise).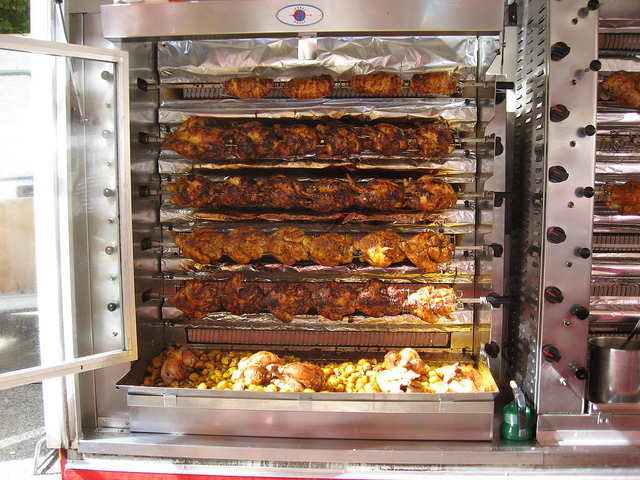 Photo Credit FreddieBrown (Creative Commons)
It's not quite grape season, but I did find some grapes from Chile last week. Too bad I bought them before finding out the price because they were 14 euros for a bunch (roughly $20—maybe we can all agree to not tell Joe?). I like to think they probably have gold flakes in them.
How to Make Fabulous Chicken Salad (Parisian Style)
In the States, I would include celery in my chicken salad recipe, but since it's not in season here yet I sliced in some radishes for an extra crunch. I may keep this change. It was so yummy!
One thing to note about this dish: I typically eyeball everything without measuring, but that doesn't help you, dear reader, and since I'm in Europe where they use the metric system, it's a pain to measure it out and do the conversions. Thus, I'm using the proportions from this recipe on Food and Wine.
Ingredients
1 rotisserie chicken, meat pulled from the bone and shredded
1/2 cup of mayonnaise
1 heaping tablespoon of crème fraîche
1 tablespoon of dijon mustard
1 tablespoon of lemon juice
1/2 cup of sliced grapes
1/3 cup of sliced radishes
salt and pepper
Combine mayonnaise, mustard, crème fraîche and lemon juice in large bowl.
Stir in chicken, grapes and radishes.
Salt and pepper to taste.
Serve with: a croissant and a green salad
Drink with: Lavender lemonade
And don't forget to enter here to win a signed copy of David Lebovitz's new cookbook, My Paris Kitchen