Have you seen those orange chocolate ball things at the store during the holidays? They are my favorite holiday candy and every year as they appear on the shelves I dream about eating them. And then I have a nightmare about my pants no longer fitting which keeps them on the shelves and not in my grocery cart.
I have the same experience with dark chocolate hazelnut Ritter bars. So when I started dreaming of holiday goodies, a mash up of these two into an orange dark chocolate hazelnut bark seemed like a good idea. And it was a good idea, but not for my pants. Although who are we kidding, my pants didn't fit after Halloween.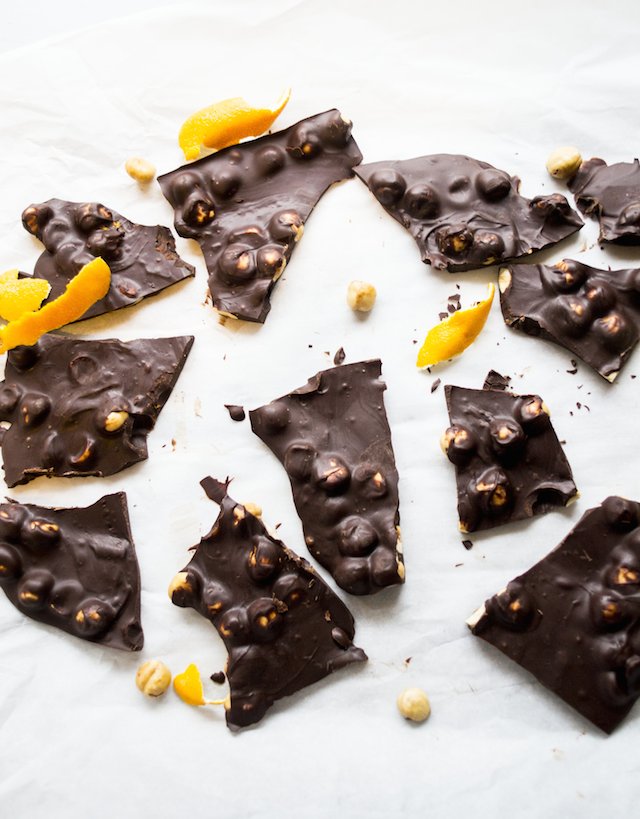 My Notes about Orange Chocolate Hazelnut Bark
If you don't have a double boiler, just use a glass or stainless steel bowl over a pot of water. Just make sure that the bowl doesn't touch the water. That's what I do. Who wants to own an extra pot who's sole purpose is boiling water? That's ridiculous.
When you pour the chocolate onto the parchment paper, spread it out a little with a spatula or spoon to the desired consistency.
Make sure the hazelnuts you use are toasted before hand. Have you ever tried an untoasted hazelnut? Yuck.
In all honest, this is pretty hard to mess up. And, it can double as a great holiday gift for neighbors ETC.

Orange Chocolate Hazelnut Bark
Ingredients
12 ounces of bittersweet chocolate
¾ cup of toasted hazelnuts
½ teaspoon of orange zest
2 teaspoons of brewed coffee
Instructions
Melt chocolate on double boiler.
Stir in coffee and orange zest.
Stir in hazelnuts
Pour onto cookie sheet lined with parchment paper.
Refrigerate until firm.
Store in freezer.