Have you ever considered making your own granola? If not, WHY HAVEN'T YOU? Ask yourself, do I need more goodness in my life? Then ask yourself, do I love yummy things? Then ask yourself, do I like making other people happy?
If your answers are yes, then GREAT NEWS—I have the answer.
Honestly ya'll, this granola is SO easy to make. And, if you make it yourself, you have a lot more control over flavor and ingredients.
I've been meaning to do it for awhile, and kept doing other things instead, like laundry (I keep trying to institute naked november but everyone's all, "we want clothes."). But I finally did it (the granola, not naked november), and I will never go back. It takes me longer to figure out which granola to buy at the store than it does to make this recipe.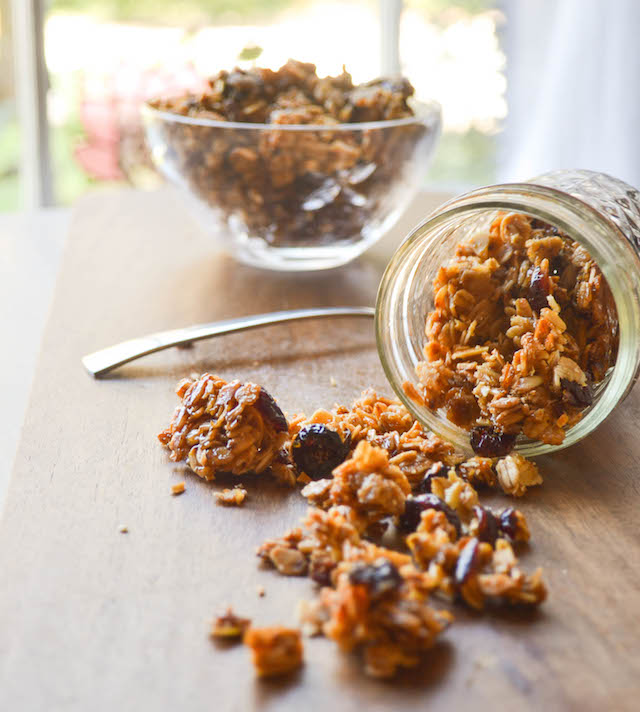 My Notes about Homemade Granola
My first run at this I toasted the almonds. I might toast them in a different granola recipe, but on this one the flavor was just too strong.
The other great thing about this recipe is its easy to customize. Throw in flax seed, quinoa, dried blueberries, different nuts. The combinations are endless.
To break up the granola, I folded the massive slab in half and then in half again and stuffed it into a gallon ziplock baggy. I then beat it against the side of the fridge. Very high tech over here.

Maple Honey Almond Granola
Ingredients
4 cups of rolled oats
¼ cup of maple syrup
¼ cup of honey
⅔ cup of light brown sugar
½ cup of sunflower oil
1 cup of sliced almonds
1 cup of craisins
3 tablespoons of butter
Instructions
Preheat oven to 300 degrees.
In a small saucepan combine maple syrup, honey, brown sugar and oil. Over medium heat cook until just heated through.
In large bowl combine oats, almonds and craisins and mix. Once sugar concoction is heated, pour over oats mixture and stir until coated evenly.
Line jelly roll pan with parchment paper. Put butter on pan and pop in oven for 1 minute, or until butter is melted. Remove from oven and using knife or spatula, spread over parchment paper. This will add flavor and help the granola separate easily when finished.
Spread oat mixture onto jelly roll pan and bake until golden, about 45 minutes.
When finished let cool completely in pan on a rack. Once cooled, granola should separate easily from parchment paper, break up granola and enjoy immediately!