Today I'm sharing one of my new favorite recipes: Stuffed Porchetta with Crispy Sage Potatoes. It is different, versatile and basically just a massive bacon roast. Bacon makes everyone happy except my friend Hope, but that sounds like a personal problem to me. This dish is wonderful for feeding a crowd and most of the prep work can be down in advance. Also, the leftovers make great sandwiches.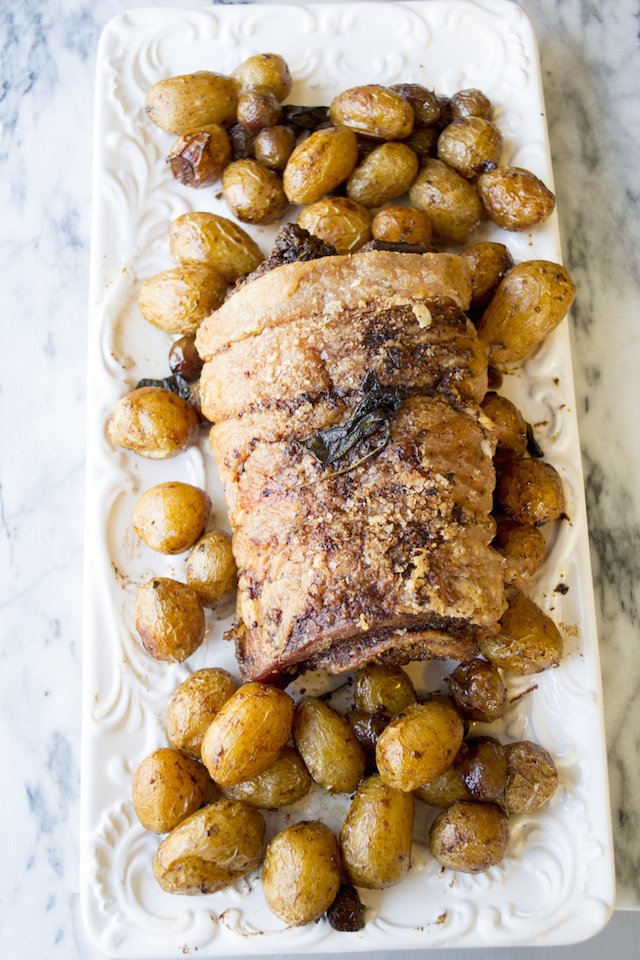 My Notes on Stuffed Porchetta with Crispy Sage Potatoes
This recipe is adapted from The Food Lab. If you have not purchased that book yet, please do. As someone who is self-educating, it has become my Bible in the kitchen. For the porchetta, I use the method he teaches, but have changed the recipe. He goes into greater detail on the science behind porchetta. (Like why you use baking powder on the skin. Hhint: it has to do with the pH levels)
Two ovens are ideal for cooking this dish. If you are like me and only have one oven, do one in the morning and the other right before serving (you might even try cutting one slightly larger and cooking the larger one last). I suppose you could roast the entire porchetta on a jelly roll pan if you have a v rack large enough.
One rendition of this I added grapes to the potatoes, it was fun and a little different but not significant enough to merit inclusion in the recipe. You could also try throwing in some kumquats in the last hour.
If, when you're finished cooking the porchetta, the potatoes are not crispy enough, set the porchetta aside and return the potatoes to the oven for additional 10 minute incraments.
And as always, I'm available on Twitter, Facebook or email, if you have questions!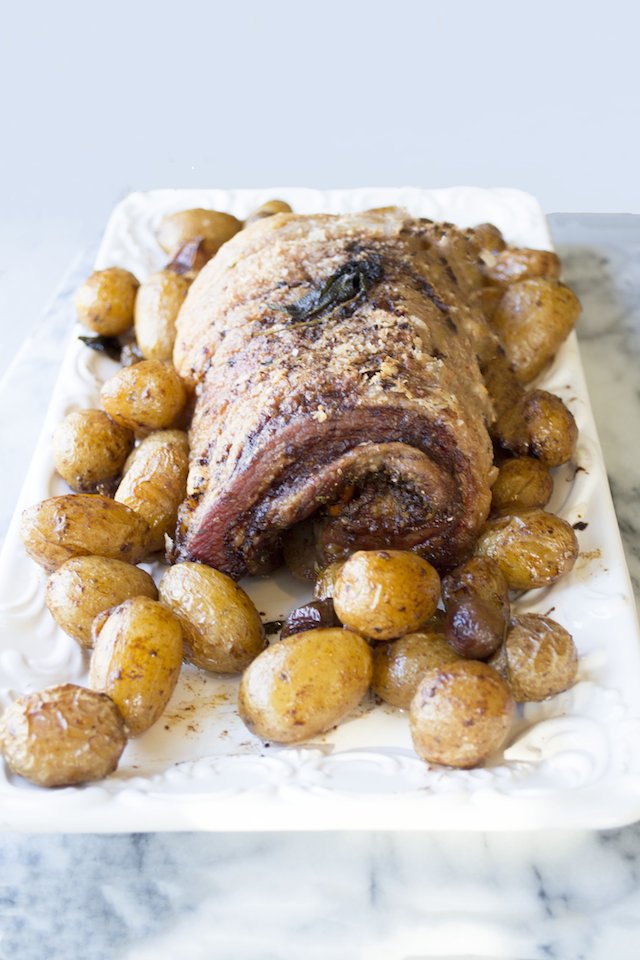 Stuffed Porchetta with Crispy Sage Potatoes
Ingredients
a handful or two of kumquats, sliced
1 slab of pork belly (around 7-9 pounds)
2 tablespoons of pink peppercorns
8 garlic cloves
3 tablespoons of fennel seed
3 tablespoons of fresh thyme, chopped
1 tablespoon of orange zest
5 pounds of small bite sized gold potatoes
10 sage leaves
kosher salt
2 teaspoons of baking powder
butcher twine
Instructions
At least the day before, but up to 3 days, take belly out of fridge, skin side down, score deeply diagonally all the way across and then do it again going the opposite direction (you should have diamond size cuts).
Toast fennel seeds and peppercorns until fragrant and then grind using mortar and pestle or spice grinder
Season liberally with kosher salt, there should be a solid dusting.
Sprinkle spices, thyme and zest over top. Using hands massage into the belly getting into the nooks and crannies you've created by scoring it.
Layer kumquats on top of belly and then stuff into nooks and crannies.
Jelly roll lengthwise and tie up in inch intervals. You will probably need 9-12 pieces of twine, depending on the length of your belly.
Mix baking powder with 6 teaspoons of kosher salt and rub all over pork belly skin.
Slice in half and wrap in saran wrap tightly. Refrigerate 1-3 days.
Preheat oven to 300 degrees.
Place each half of the porchetta in a v rack in a roasting pan. Roast for two hours.
Meanwhile, place potatoes in cold water and bring to a boil, boil about 5 minutes, until fork tender but not done. Remove from heat and place in large mixing bowl, add in sage leaves.
After porchetta has roasted for two hours, pull from oven. Take the v rack out and set aside. Pour pork drippings over potatoes and sage and season with salt. Dump potatoes in the bottom of roasting pan. Place porchetta in v rack over top and return to oven.
Roast for an additional two hours, basting every thirty minutes.
Increase heat to 500 and roast an additional 15-30 minutes until skin is crispy.
Rest for 15 minutes before serving.
Have you tried this Stuffed Porchetta with Crispy Sage Potatoes? Did you like it? I'd love to hear your thoughts. Comment and rate it below!