My mom loves soup. And I'm pretty sure she made it once a week when we were growing up, even in the summer. I'm not so crazy about hot soups in the summer, but this refreshing take on Tom Kha Gai (Chicken Coconut Soup) makes you feel like you're back on the streets of Bangkok (it's always summer there). And you also don't feel like you just left a sauna when you're finished.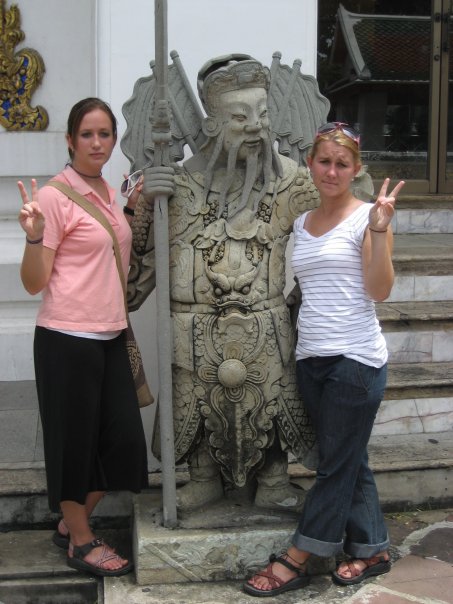 Picture from the last time I was in Thailand
Food in Thailand
In 2007 when I trekked around the world, I went to Thailand. When we landed my friend and I went to investigate the streets. The first thing I saw was an elephant walking down the street and a local vendor selling barbecued beetles, grubs and tarantulas. We didn't ride the elephant, but we did try a BBQed beetle. It was crunchy.
I try to stay away from beetles, but definitely not the flavors I encountered in Thailand.
This is one of my most favorite soups to make always. I love the depth of flavor it has.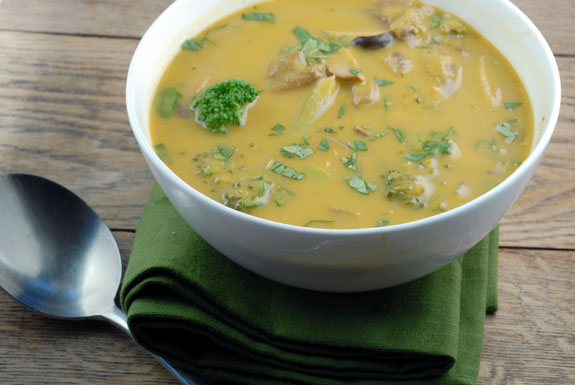 Photo Credit: elana's pantry (Creative Commons)
This soup is best when it's cooled down a little (not piping hot) and can even be eaten at room temperature. I adapted this recipe from the original one from Cooks Illustrated.
Ingredients
1 tablespoon of oil
2 tablespoons of lemongrass paste
3 shallots, chopped
1/2 cup of chopped cilantro plus 8 sprigs of cilantro
3 tablespoons of fish sauce
2 (14 ounce) cans of coconut milk, well shaken
4 cups of chicken broth
1 tablespoon of sugar
1/2 pound of shiitake mushrooms, sliced
1 pound of boneless, skinless chicken thighs sliced thinly (1/8 inch) across the grain
3 tablespoons of fresh squeezed lime juice + lime wedges for garnish
1-2 kaffir lime leaves (optional)
2 teaspoons of thai chili paste
2 scallions sliced diagonally
Heat oil in saucepan, add lemongrass, shallots, 8 sprigs of cilantro (chopped) and 1 tablespoon of fish sauce. Sauté until softened. Add chicken broth and one can of coconut milk and simmer for 20 minutes. If using kaffir leaves add in here.
In separate bowl mix lime juice, chili paste and remaining fish sauce, set aside.
Strain the shallots and cilantro out and return to medium heat. Add in remaining can of coconut milk, sugar and mushrooms. Cook until mushrooms are tender. Add in chicken and cook until opaque. Remove soup from heat.
Stir in lime juice mixture and chopped cilantro and serve. Garnish with scallions. *If kaffir lime leaves were used, add in lime juice in batches and taste to ensure it doesn't become overly acidic.
Serve with: Basmati rice
Drink with: Monday Night Brewing Fu Manbrew It's ginger undertones pair nicely with this Asian soup and you can't beat a cold beer in the summer.