Do you remember the first time you tried brussels sprouts and thought, "what the? I thought these were supposed to be disgusting." I do. I watched some chef make them on Top Chef and decided to try them myself. They instantly became my favorite vegetable. I still can't get my dad to love them (too many traumatic memories of boiled brussels sprouts), but I keep trying. Maybe if I coat them in Sriracha.
But seriously, what's not to love about these maple bacon brussels sprouts? Bacon is delicious. Brussels sprouts are delicious. And maple syrup is one of the four major food groups. I don't know what else you want in life (except for maybe world peace).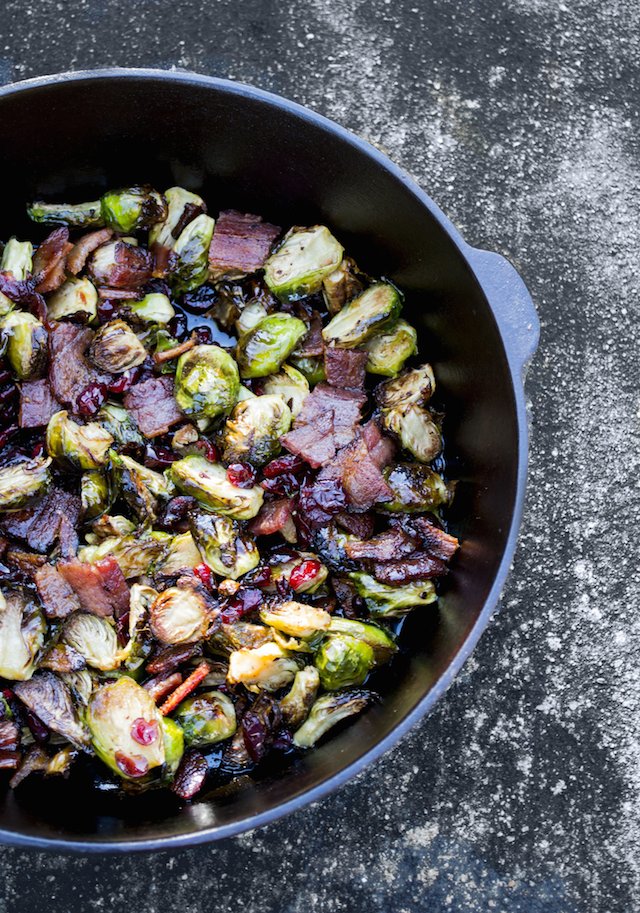 My Notes on Maple Bacon Brussels Sprouts
This recipe is specific to Thanksgiving, but if your oven is not in use, then you can roast the sprouts in the oven to save time. You could also do them a day ahead and just reheat the next day.
If sprouts are large, slice into quarters and make sure they cook through, cause have you ever tried raw brussels sprouts? Yuck. (Unless of course they're shaved and made into a salad, then yum.)

Maple Bacon Brussel Sprouts
Ingredients
1 pound of brussel sprouts
8 ounces of bacon, bacon fat reserved
½ cup of dried cranberries
3 tablespoons of maple syrup
2 tablespoons of cold butter
kosher salt
olive oil
Instructions
Clean sprouts and slice in half or quarters (depending on size). Toss in olive oil and salt and sauté until golden brown.
In cast iron skillet cook bacon, set aside and chop. Leave bacon fat in pan.
Once sprouts are finished cooking add butter to fat and melt. Then add maple syrup to bacon fat on low heat . Add sprouts, cranberries and bacon and toss in glaze.
May be made ahead and reheated.