Two days ago, I woke up with a craving for popsicles and read everything I could find on how to make popsicles. I wanted an interesting flavor, so I tried a few things out and came up with this – the Chocolate White Russian Popsicle. Your welcome.
To Note About Chocolate White Russian Popsicles
A lot of recipes I found called for pudding mix, I'm anti as much processed food as possible (which I'm sure makes such a huge different when you're eating alcoholic popsicles, but WHATEVER) so I hunted around to find the basics for how popsicles are made. I don't know if this is it or not, but I do know these were delicious. You need to go and make them immediately. They're super easy and easily impress at any party.
If you don't have dutch processed cocoa you can use regular cocoa, dutch processed. Dutch processed cocoa just works better with liquid.
I looked all over Carpinteria for popsicle molds and I couldn't find one. The nearest Target is 20 minutes away and I also didn't feel like waiting two whole days for Amazon to deliver some. So I opted for plastic cups, tupperware and tongue depressors (seriously I couldn't even find popsicle sticks). But the point is they got the job done.
If you have time a little more time than I did (aka you don't need popsicles in 4 hours) and you like Amazon – these are the popsicle molds I'd get.  They're simple, low maintenance and turn out pretty popsicles without having to worry about cleaning up plastic sticks.
This recipe was inspired by the original from All Recipes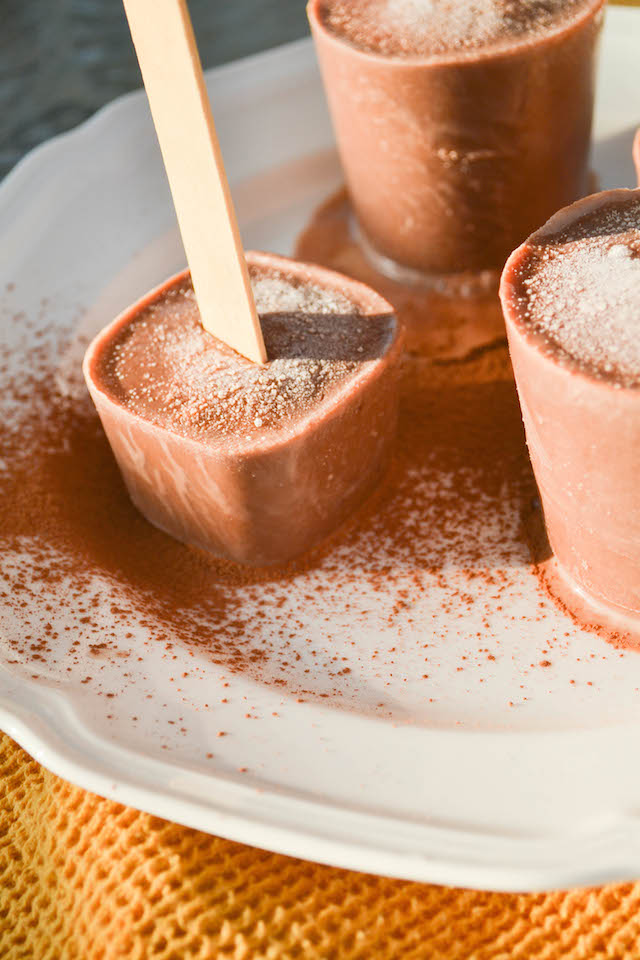 Chocolate White Russian Popsicles
Ingredients
½ cup of organic cane sugar
2 tablespoons of corn starch
2 tablespoons of dutch processed cocoa powder
2½ cups of whole milk
1 teaspoon of vanilla extract
2 tablespoons of Kahlua
1 tablespoon butter
Instructions
Bring sugar, corn starch, cocoa powder, milk, vanilla and kahlua to a simmer on stove top. Simmer until thickened (2-5 minutes). Remove from heat. Stir in butter.
Transfer liquid to bowl and let cool on counter for 15 minutes. Then cool in refrigerator for 15 minutes.
Pour into popsicle molds and freeze for about an hour. Add popsicle sticks while pops are slushy, but not firm. Freeze at least 3 more hours or until ready to eat.
Have you tried the recipe? Did you like it? I'd love to hear your thoughts. Comment and rate it below!