Indian dishes are extremely flavorful, but cooking them can feel overwhelming. There are so many different spices and ingredients and the Indians know how to bring them al together to make some of my favorite meals in the world. Today I'm sharing one of my favorites, a simple recipe for Chicken Tikka Masala with Forbidden Rice.
New York City is Good for Breakups
A few years ago my sister broke up with her boyfriend the same week I had a work trip to New York. We booked a hotel and stayed an extra couple of days. We spent two days laughing, shopping and eating yummy yummy food. Our last night there we decided to do a nice dinner in Manhattan. Two hours later, after taking the metro in the wrong direction, tramping 12 blocks in the rain — getting soaking wet — we opted for a cab and takeout instead. Estie got chicken tikka masala, which at midnight after getting soaking wet in an unfamiliar city suddenly became hilarious.
When we got home I found a recipe for Chicken Tikka Masala for her birthday, it was a  hit. Then I made it for my brother-in-law's birthday, and everyone loved it. When you make this, everyone will love it. It's one of my favorite Indian recipes and of course when we came to Santa Barbara, it was one of the first things I made for my in-laws (they also loved it).
This recipe was inspired and loosely based off of this one from Cook's Illustrated.
To Note about Chicken Tikka Masala and Forbidden Rice
It sounds complicated the first time you make it, but it's actually quite simple. One of the most important things to remember is to not over cook the meat. Thighs are hard to over cook, but make sure you pull them out on the earlier side, they can cook a little in the sauce.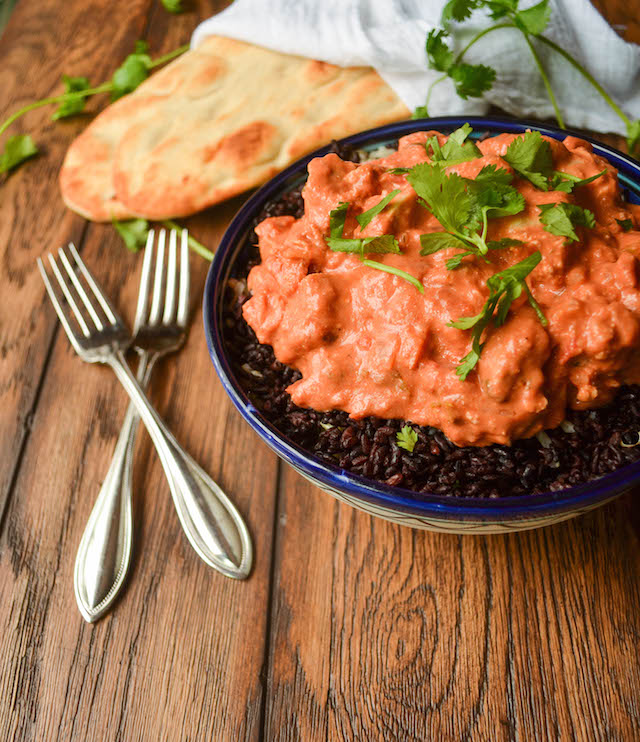 While traditionally an Indian dish, because of the ingredients and method of cooking, Tikka Masala is actually thought to have originated in the Indian kitchens of Britain. Now it's the 2nd most popular dish in England.
Traditionally, forbidden rice, or black rice, was eaten only by the Emperors of China. It's high nutritional content made it very valuable, and even stealing a couple of handfuls could lead to death (hence the name Forbidden rice). Forbidden Rice is high in antioxidants (more than blueberries even) and has a nutty flavor, similar to brown rice.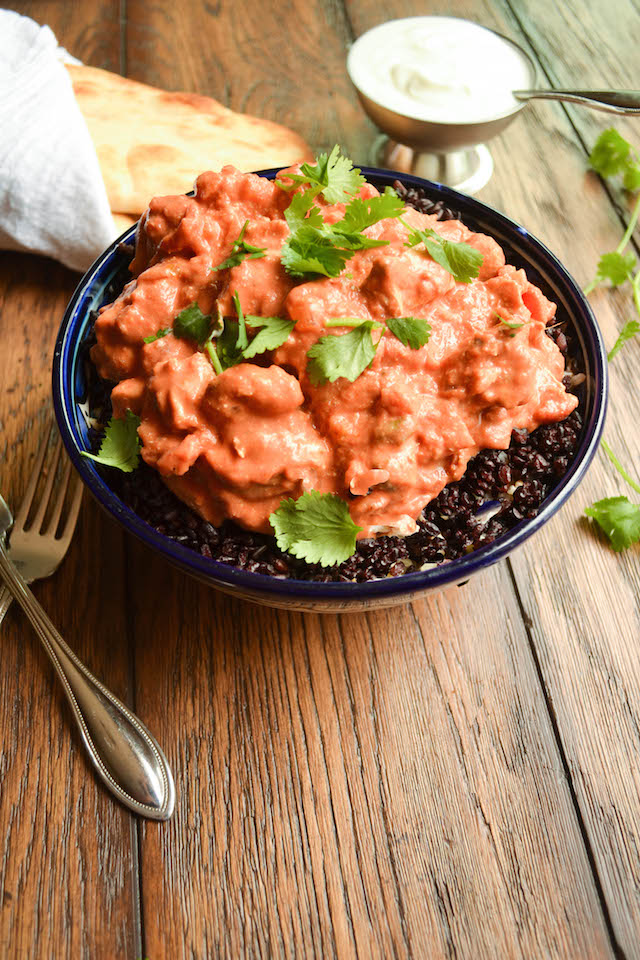 Rice Ingredients
2 cups of forbidden rice
3 1/2 cups of water
2 tablespoons of butter
Marinade Ingredients
3 lbs of boneless skinless chicken thighs
3/4 teaspoon of cumin
3/4 teaspoon of ground coriander
3/8 teaspoon of cayenne pepper
1 1/2 cups of plain whole milk yogurt
3 tablespoons of olive oil
3-4 garlic cloves
2 tablespoons of grated fresh ginger
Sauce Ingredients
3 tablespoons of sunflower oil
1 medium onion diced fine
1 medium shallot diced fine
3 garlic cloves
3 teaspoons of grated fresh ginger
1 1/2 tablespoons of tomato paste
1 1/2 tablespoons of garam masala
2 cans (28) ounces each of crushed tomatoes
3 teaspoons of sugar
3/4 teaspoon of salt
1 cup of heavy cream
1/3 cup of chopped cilantro
plain whole milk yogurt
Combine yogurt, cumin, coriander, cayenne pepper, salt, garlic, oil and ginger in bowl. Add chicken to marinade and refrigerate for 1-2 hours.
Melt butter in sauce pan, add dry rice and sauté for a couple of minutes, until rice is covered.  Add water, bring to a boil, reduce heat to medium and cover. Cook for an additional 30-40 minutes, until all water has evaporated and rice is sticking up straight. Remove from heat.
Heat oil in dutch oven until shimmering, sauté onions and shallot until golden. Add in garlic, ginger, tomato paste and garam masala. Stir and cook until fragrant, about 3 minutes. Add in crushed tomatoes, sugar and salt and bring to a boil. Reduce heat to medium-low and simmer for 15-20 minutes, stirring occasionally. Add in cream, stir, cover and remove from heat.
While sauce is simmering, adjust oven rack to the top rack – about 6-8 inches from the top of the oven. Turn oven to broil. Remove chicken from fridge and place on parchment lined jelly roll pans. Broil chicken for about 8-15 minutes, until chicken is cooked, turning once during cooking. When chicken is done chop into cubes and stir in to warm sauce. Stir in cilantro and serve over forbidden rice and garnish with yogurt.
Serve with: Forbidden rice, Naan, and Curried Cauliflower
Drink with: a dry Riesling (like this oh so yummy one from Demetria Vineyards).