In your list of crucial Thanksgiving dishes, where do mashed potatoes fall? The correct answer is #2. You can't have Thanksgiving without a turkey and mashed potatoes (it actually ties for second with stuffing and gravy).
In general, I wouldn't share a recipe for mashed potatoes. All you need to do is boil potatoes, throw some cream in there, mash it up and voila, you have mashed potatoes. But then I found out that every month 60,000 people search for "how to make mashed potatoes." And that's just on average, Thanksgiving not withstanding. I feel bad for those people, they deserve to know how to make mashed potatoes! So if you don't know how to make mashed potatoes, here's a simple recipe. And lucky for you, they're hard to mess up.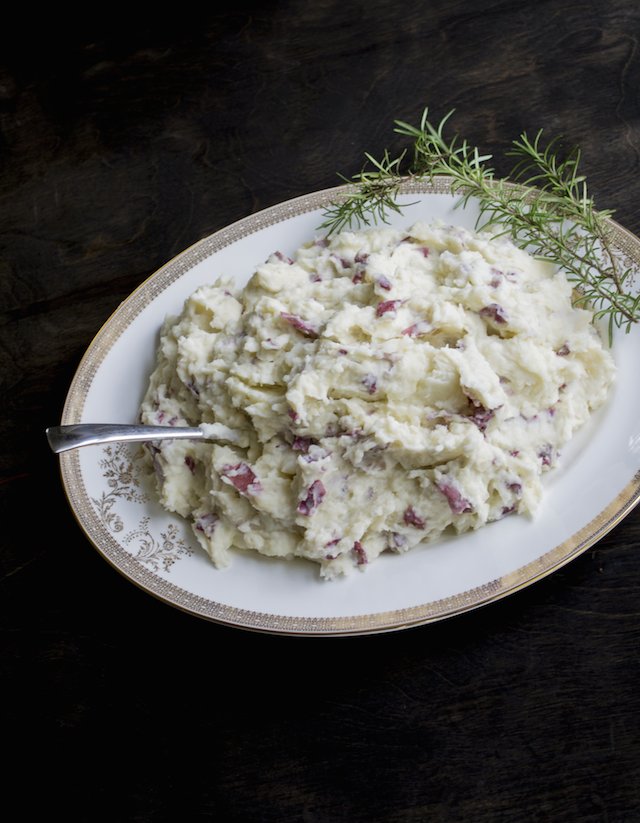 My Notes on How to Make Mashed Potatoes
Use a hand mixer or a hand masher. Do not use a blender. The key is to mash the minimum amount needed or they will become too starchy. Starchy potatoes=no bueno.
This recipe is meant to have chunks. If you want creamy mashed potatoes, try this recipe.
Don't be thrown by the cream cheese, it doesn't taste cheesy. Just creamy delicious goodness that goes so good with gravy, or just with a spoon at 11pm when your turkey coma has worn off.

Red Skin Mashed Potatoes
Ingredients
5 lbs of red skinned potatoes
2 ounces of cream cheese
½ stick of butter
⅔ cup of milk
½ cup of sour cream
salt
Instructions
Wash potatoes, cut off any bad spots and cut into 1 inch dice. Leave the skin on.
Put potatoes in cold water in large pot, bring to a boil. Cook until potatoes are soft and easily pierced with a fork, about 20 minutes.
Drain water from potatoes and return to stove.
Add butter and milk and immediately start mashing with hand mixer
Add cream cheese and continue to mix.
Once potatoes reach desired consistency, add sour cream.
Salt to taste.
Potatoes may need more sour cream or cream cheese (if not creamy and delicious enough) don't be shy about adding more.