After the obligatory Thanksgiving dishes (broccoli and cheese sauce for the Barnes) as well as the standard ones like stuffing, mashed potatoes, gravy and oh yeah, turkey, usually a few new creations hit our table each year. One year I made pureed carrots with mint (we're never making that again). But this new recipe, sautéed broccoli with mushrooms in a sherry cream sauce, is delicious and worthy of adding to your Thanksgiving spread.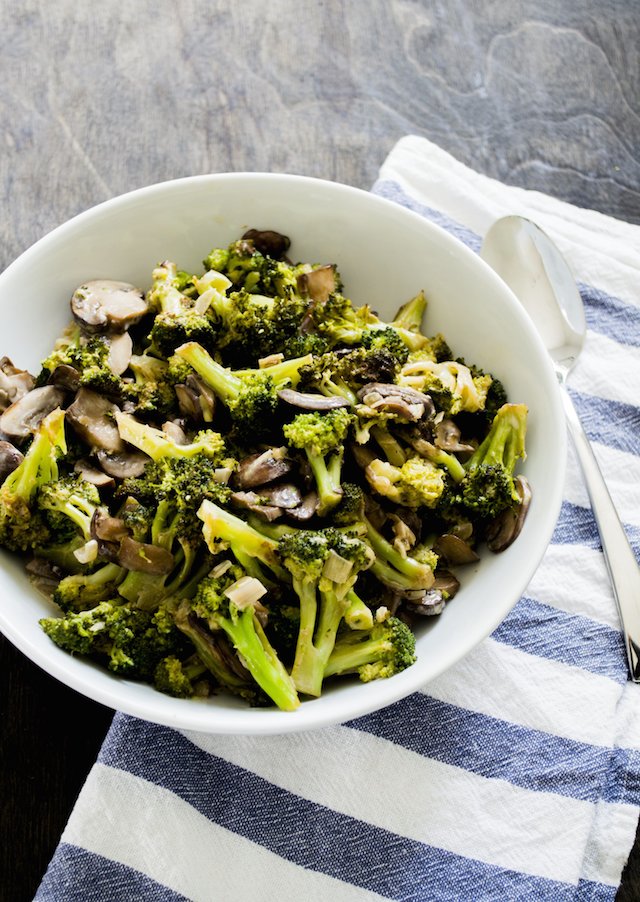 My Notes about Sauteed Broccoli and Mushrooms
I cook with my chef's pan for dish. Being non stick (which I generally am opposed to) makes it easy to transfer ingredients in and out of. Additionally, it's shallow so you're able to get a golden brown color on the broccoli (which gives flavor) versus steaming them.
Make sure the broccoli is either small or thin, it will brown quicker and retain the bright green color.
I was inspired by this dish originally, but then I changed everything except the shallot, cream and sherry.

Sauteed Broccoli and Mushrooms in a Sherry Cream Sauce
Ingredients
1 pound of broccoli, in small florets or sliced thinly
8 ounces of baby bella mushrooms
1 small shallot, minced
½ cup of sherry
½ cup of heavy whipping cream
olive oil
kosher salt
Instructions
Saute mushrooms in olive oil in pan until browned. Remove and set aside.
Toss broccoli in olive oil and kosher salt and sauté on medium high heat until golden brown and bright green. Add a couple of tablespoons of water to the pan and cover to help them cook quicker.
Once soft, but still bright green, remove from pan and set aside.
Heat a tablespoon of olive oil in pan, sauté shallot. Once soft, return mushrooms and broccoli to pan. Add sherry to pan and allow to reduce by a third to a half.
Add cream to pan, reduce again and serve.