What's your favorite Thanksgiving dish? As I mentioned yesterday, my favorites are 1. gravy 2. stuffing 3. mashed potatoes 4. broccoli and cheese sauce. Gravy beats stuffing, but only by a small margin. A good stuffing recipe is not hard to find. Finding the right stuffing recipe for your table might be. If you like a savory, melt-in-your-mouth stuffing, then this is the recipe for you. Also meatless, so that's healthy, right?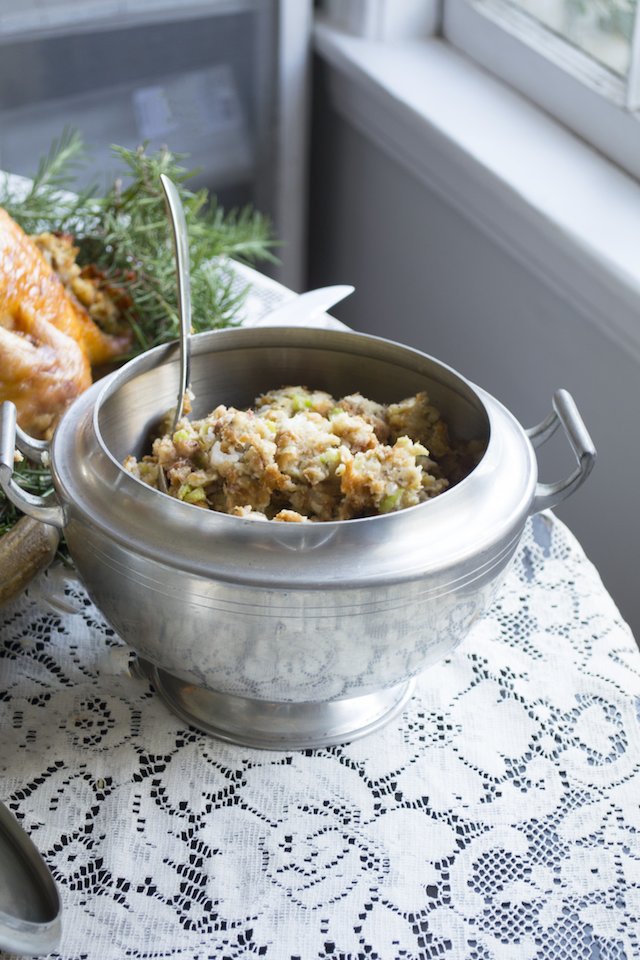 Grandma Ruth made this recipe every year my whole childhood. She made it the best. I used to sit on the counter the night before thanksgiving and watch her hand tear the bread for the stuffing. I would sneak bites when she "wasn't looking". Now my mom makes the stuffing and "it's weird" if I sit on the counter and sneak bites. Apparently cause then I'm just the 32 year old eating stale bread. I miss Grandma.
My Notes about Thanksgiving Stuffing
Don't forget to prepare this the day before! The bread needs time to dry out a little in order to soak up the butter and turkey juices.
You can make this outside of your turkey, but to get the proper flavors, you really need to stuff your bird. I've eaten stuffed stuffing my whole life and I have yet to die.
Be careful with the poultry seasoning. The key is to not over-season the stuffing. If it tastes good after you season it (before the butter) then it's perfect. (You should always be tasting your food as you go). And at the end of the day, your tastebuds are more reliable than my recipe. Trust the tongue.
This is enough stuffing for eight people with no leftovers and is the most you will probably be able to pack in a ten pound bird. We typically double it for a 16 pound bird. If you don't have leftovers that you aren't able to stuff, add a little broth and cook it on the side. Valuable stuffing should not be wasted.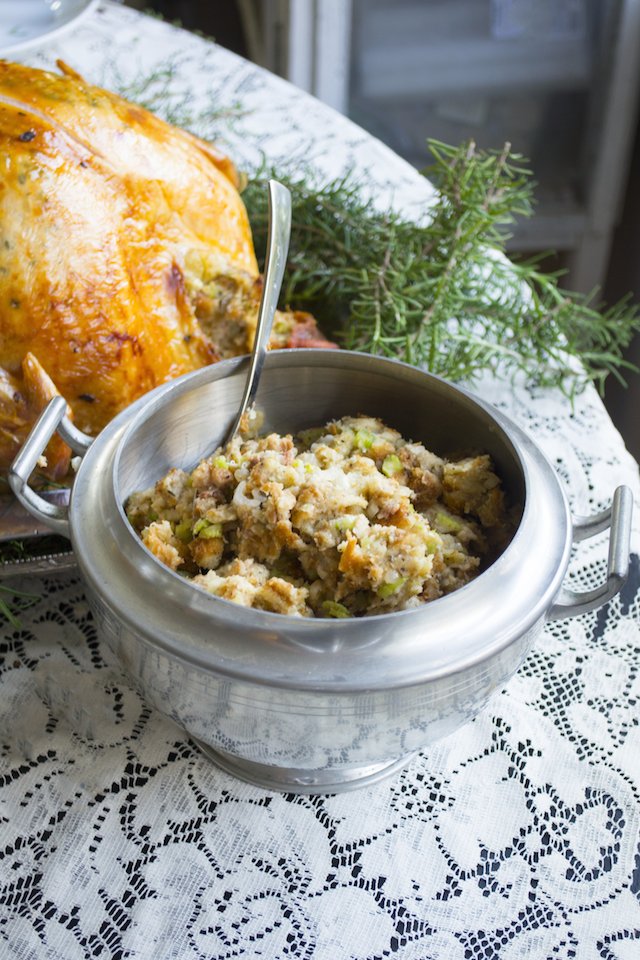 My Grandma's Stuffing
Ingredients
1 loaf of white sandwich bread, diced
1 medium onion, small dice
4 stalks of celery sliced thinly
2-3 teaspoons of poultry seasoning
salt
pepper
½ stick of butter melted
Instructions
The night before, combine sandwich bread, onion and celery in large bowl or roasting pan. Season with salt, pepper and poultry seasoning. *Better to use too little than too much poultry seasoning. When you season it, it should taste good, but not too strong.
Leave the bread out over night, loosely covered with a towel, so that it can dry out
When it's time to cook your bird, pour the butter all over the bread. Stuff it into the bird.
Cook the bird. Take stuffing out and stuff in mouth.